Rikers High (Paperback)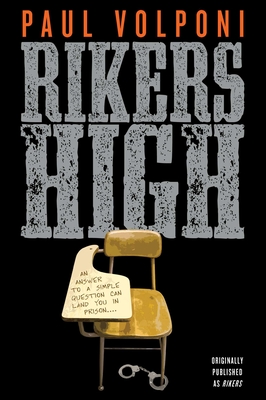 $8.79
Available in our Warehouse: Usually Ships in 3-8 Days
Description
---
An unflinching story about justice, courage, and the life of one young man behind bars.

It started out as an innocent day for Martin, but it quickly turned into his worst nightmare--arrested for something he didn't even mean to do. And five months later, he is still locked up in jail on infamous Rikers Island. Just when things couldn't get worse, Martin gets caught in a fight between two prisoners, and his face is slashed. He's scarred forever, but one good thing comes from the attack: Martin is transferred to a part of Rikers where inmates must attend high school. When he meets his caring and understanding teacher, will Martin open up and learn from his situation? Or will he be consumed by prison and getting revenge on his attackers?

"Volponi, who taught on Rikers Island for six years, writes with an authenticity that will make readers feel Martin's fear."--Publishers Weekly

"Volponi . . . brings to life a believable range of teachers, COs, and inmates and portrays power, hierarchies, and race relations both outside and inside the jail walls with unflinching realism."--School Library Journal 

"With down-to-earth language based on his own experiences . . . Volponi captures the reader."--VOYA 
About the Author
---
Paul Volponi is the author of the critically acclaimed young adult novel Black & White. From 1992 to 1998, he taught adolescents on Rikers Island in New York City to read and write. Mr. Volponi worked at a day treatment center like Daytop teaching students and helping them prepare for the GED. Mr. Volponi lives in New York City.
Praise For…
---
"With down-to-earth language based on his own experiences . . . Volponi captures the reader." -VOYA
We appreciate your continued support!
If you would like to make a donation to help us through CLICK HERE.