Is Wheat Killing You?: The Essential Cookbook and Guide to a Wheat-free Life (Paperback)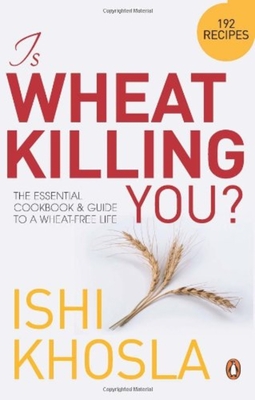 $19.95
This item is not currently available to order.
Description
---
Ishi Khosla was recently listed as being among the twenty-five most powerful women in the country in her domain of expertise by the India Today Group. Her latest book, Is Wheat Killing You?, will help not only the millions of people with gluten/ whet intolerance, also known as celiac disease, but all those who prefer to avoid wheat. With the alarming rise in the incidence of celiac disease, this book is a boon as it provides information on the disease and how to manage it without having to give up any favourite foods. Most people with celiac disease who follow a gluten-free diet have a complete and rapid recovery.
This complete guide to gluten-free living is based on scientifically established principles of healthy eating and includes essential facts about a balanced diet that are of interest to all. The book features nearly 200 quick, easy-to-follow, practical and delicious recipes- pan-Indian, Oriental and Continental. Additionally, Is Wheat Killing You? integrates gluten-free cooking with mainstream cooking so those who cannot eat gluten can lead normal social lives. Ishi Khosla explains how grains can affect your health and profiles those at risk for gluten sensitivity.
About the Author
---
Ishi Khosla is a practising clinical nutritionist, consultant, columnist, researcher, writer and an entrepreneur. She is actively involved in clinical practice at the Centre for Dietary Counselling in Delhi, where she deals with a wide range of nutrition-related health problems. She started her career with the All India Institute of Medical Science, and later she was the head of the Nutrition Department of Preventive Cardiology at the Escorts Heart Institute and Research Centre, New Delhi, for several years. Passionate about nutrition, she spearheaded a health food company, Whole Foods India, which is in the business of producing and retailing health foods and operating health cafés. Ishi Khosla founded The Celiac Society for Delhi, in 2006 to spread awareness about celiac disease, a condition caused by wheat intolerance.