Their Promised Land: My Grandparents in Love and War (Paperback)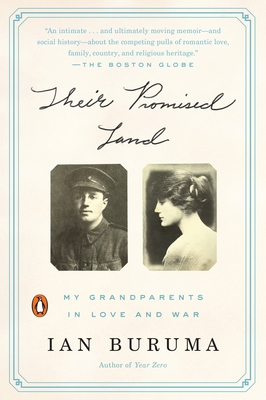 $17.00
Available in our Warehouse: Usually Ships in 1-5 Days
Description
---
A family history of surpassing beauty and power: Ian Buruma's account of his grandparents' enduring love through the terror and separation of two world wars
During the almost six years England was at war with Nazi Germany, Winifred and Bernard Schlesinger, Ian Buruma's grandparents, and the film director John Schlesinger's parents, were, like so many others, thoroughly sundered from each other. Their only recourse was to write letters back and forth. And write they did, often every day. In a way they were just picking up where they left off in 1918, at the end of their first long separation because of the Great War that swept Bernard away to some of Europe's bloodiest battlefields. The thousands of letters between them were part of an inheritance that ultimately came into the hands of their grandson, Ian Buruma. Now, in a labor of love that is also a powerful act of artistic creation, Ian Buruma has woven his own voice in with theirs to provide the context and counterpoint necessary to bring to life, not just a remarkable marriage, but a class, and an age.
 
Winifred and Bernard inherited the high European cultural ideals and attitudes that came of being born into prosperous German-Jewish émigré families. To young Ian, who would visit from Holland every Christmas, they seemed the very essence of England, their spacious Berkshire estate the model of genteel English country life at its most pleasant and refined. It wasn't until years later that he discovered how much more there was to the story.
 
At its heart, Their Promised Land is the story of cultural assimilation. The Schlesingers were very British in the way their relatives in Germany were very German, until Hitler destroyed that option. The problems of being Jewish and facing anti-Semitism even in the country they loved were met with a kind of stoic discretion. But they showed solidarity when it mattered most. As the shadows of war lengthened again, the Schlesingers mounted a remarkable effort, which Ian Buruma describes movingly, to rescue twelve Jewish children from the Nazis and see to their upkeep in England. 
 
Many are the books that do bad marriages justice; precious few books take readers inside a good marriage. In Their Promised Land, Buruma has done just that; introducing us to a couple whose love was sustaining through the darkest hours of the century.

Look for Ian's new book, A Tokyo Romance, in March, 2018. 
About the Author
---
Ian Buruma is editor of The New York Review of Books. His previous books include Their Promised Land, Year Zero, The China Lover, Murder in Amsterdam, Occidentalism, God's Dust, Behind the Mask, The Wages of Guilt, Bad Elements, and Taming the Gods.
Praise For…
---
"Their Promised Land is a carefully and admirably written, highly readable work of social history told charmingly in a most intimate way through a close perusal of family correspondence. Buruma writes of British-born Jews of the upper-middle class with a great, sympathetic perspicacity and sweetness—these are after all his grandparents who are his subject—and, most revealingly, he traces with precision the effect on their lives of being Jews of German origin in their beloved England during the two world wars." —Philip Roth

"One comes away from this small but powerful book with a deep fondness and respect for its two central characters—and for the incredible devotion they shared, not only with each other, but with an England that was both real and an extension of their own admirable idealism." —Washington Times

"A fascinating story." —The Guardian 

"Bernard and Win Schlesinger are appealing characters whose personalities come through in their many decades of correspondence, but "Their Promised Land" is best when it explicitly explores the friction between Britishness and Jewishness, between national loyalty and 'tribal, or ethnic, or official religious identification,' between that old, old desire for belonging and the inevitable necessity of 'standing at an odd angle' from the only world you've ever known." —The Forward 


"It was the good fortune of their grandson, historian Ian Buruma, to discover hundreds of their often mundane but cumulatively revealing letters. Buttressed by his memories and additional reporting, they form the backbone of "Their Promised Land," an intimate, rambling, charming, and ultimately moving memoir — and social history — about the competing pulls of romantic love, family, country, and religious heritage." —Boston Globe

"On the face of it, this is the very definition of a vanity project, a scholar believing the lives of his fireplug of a grandfather and patriotic grandmother worth of investigating when they were just, for lack of a less disparaging term, ordinary people. But Mr. Buruma has a broader purpose here, and he regards the letters with a historian's sensibility. The Schlesingers are important not only in their idiosyncrasy—which emerges wondrously through their own words—but also because they embodied a type of diasporic Jew so prevalent in the 19th and 20th centuries, and not unknown today….[while] questions of class, culture, and nationality give the book its worth, there is something else that sustains Mr. Buruma's interest even more: the mystery of a passionate marriage that, at least in the letters, never seems to cool over time." —Wall Street Journal

"If you've ever complained that your grandparents were dull, then you didn't have grandparents like Bernard and Winifred Schlesinger … [An] exceptional book." —Minneapolis Star Tribune


"A wholly understanding, moving account of what it meant to be Jewish and English in one of the most troubled times of the last century….The Schlesingers chose to be English and Jewish, both insiders and outsiders, a choice that was possible in a liberal, relatively tolerant Britain.  But there is a dark side to this sunlit story.  Buruma's voyage into the past is a warning as well as a celebration of lost lives.  Somehow we must ensure that our societies allow outsiders to flourish, however they choose to do it." —The New York Times Book Review 

"In a fluid, novelistic narrative, Buruma not only captures a remarkable marriage, but also a particular segment of English society—assimilated, upper-middle-class Jews…. This illuminating story of cultural assimilation and identity will resonate with many readers…. a moving, intimate portrait." —Publishers Weekly (starred review)

"A beautiful and complex love story that lasted through triumphs and disasters, years of separation, anti-Semitic microaggressions, and social and family pressures. Buruma's work is well-paced, absorbing, and gives a human face to some of the darkest eras of contemporary European history. Readers interested in biography, Judaism, social history, European history, the history of both World Wars, and/or a good old-fashioned love story will find much here to appreciate." —Library Journal (starred review)


"A fascinating and memorable personal family story…[A] stirring memoir" —Booklist 

"The history of assimilation is often obscured by misunderstanding—both ethical and philosophical. In Their Promised Land, Ian Buruma offers a searching, tender memorial of his grandparents' marriage that is, at the same time, a clarifying study in the complicated pleasures and discontents of multiple identity." —Adam Thirlwell

"Ian Buruma, the critic, is justly famous for his ferocious acuity. Ian Buruma, the grandson, brings that same clarity of observation to this exceptional memoir, but he also writes with an elegiac tenderness that may surprise—and will deeply move—both his fans, and those readers who have yet to discover his magisterial gifts."—Judith Thurman


"In this warmly affectionate, richly textured family chronicle, Ian Buruma  draws on his own memories and a treasure trove of intimate letters, to uncover a moving love story, and paint a vivid picture of a seemingly idyllic world darkened by unexpected shadows. Informed by Buruma's long-standing concerns as historian and cultural critic, Their Promised Land is an unsentimental elegy for a vanished cosmopolitan epoch, and an homage to lives made extraordinary by fidelity to ordinary virtues. A fascinating, subtle, wonderfully readable book." —Eva Hoffman

"Buruma impressively captures his grandparents' remarkable lives in this insightful narrative. The author shapes his family's labor of a lifetime into a scintillating work of art." —Kirkus (starred Review) 

"To find a dusty cache of historic letters is a writer's dream. To discover that these letters not only span two world wars, but follow the trajectory of two lovers who become the loving grandparents of idyllic holidays spent in a grand house in the English countryside, is to strike literary gold. From these letters, Ian Buruma has woven an utterly engrossing story of cultivated, upper class German Jews who grew up in England and made its values their own. On the way, he probes anti-Semitism in all its guises and shifting social attitudes. At once family memoir and history, this is a book to linger over and savour."  —Lisa Appignanesi, author of Trials of Passion and All About Love


From the Hardcover edition.