Rules of Civility: A Novel (Paperback)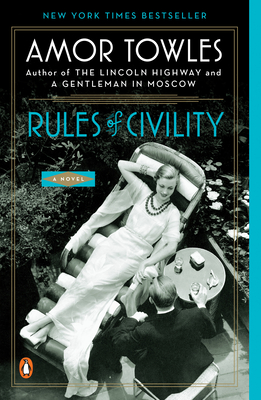 Fall '12 Reading Group List
---
"This flawless debut novel follows two young women, boarding-house roommates, making their way in 1938 Manhattan. A chance meeting with an enigmatic young businessman launches the pair into areas of society heretofore closed to them, where they encounter a large cast of characters both charming and repellent. With echoes of Fitzgerald, Towles evokes effortlessly the era of pre-war Manhattan, from the workplace politics of a law office secretarial pool to the alcohol-fueled lawn party of the Long Island gin-and-horses set. This is an astonishing book!"
— Matthew Lage, Iowa Book L.L.C., Iowa City, IA
August 2011 Indie Next List
---
"This flawless debut novel follows two young women, boarding-house roommates, making their way in 1938 Manhattan. A chance meeting with an enigmatic young businessman launches the pair into areas of society heretofore closed to them, where they encounter a large cast of characters both charming and repellent. With echoes of Fitzgerald, Towles evokes effortlessly the era of pre-war Manhattan, from the workplace politics of a law office secretarial pool to the alcohol-fueled lawn party of the Long Island gin-and-horses set. This is an astonishing book!"
— Matthew Lage, Iowa Book L.L.C., Iowa City, IA
Description
---
From the New York Times-bestselling author of A Gentleman in Moscow and the forthcoming The Lincoln Highway, a "sharply stylish" (Boston Globe) book about a young woman in post-Depression era New York who suddenly finds herself thrust into high society—now with over one million readers worldwide

On the last night of 1937, twenty-five-year-old Katey Kontent is in a second-rate Greenwich Village jazz bar when Tinker Grey, a handsome banker, happens to sit down at the neighboring table. This chance encounter and its startling consequences propel Katey on a year-long journey into the upper echelons of New York society—where she will have little to rely upon other than a bracing wit and her own brand of cool nerve.

With its sparkling depiction of New York's social strata, its intricate imagery and themes, and its immensely appealing characters, Rules of Civility won the hearts of readers and critics alike.
About the Author
---
Born and raised in the Boston area, Amor Towles graduated from Yale College and received an MA in English from Stanford University. His first novel, Rules of Civility, published in 2011, was a New York Times bestseller and was named by The Wall Street Journal as one of the best books of 2011. His second novel, A Gentleman in Moscow, published in 2016, was also a New York Times bestseller and was named as one of the best books of 2016 by the Chicago Tribune, The Washington Post, The Philadelphia Inquirer, the San Francisco Chronicle, and NPR. His work has been translated into more than thirty-five languages. Having worked as an investment professional for more than twenty years, Mr. Towles now devotes himself full time to writing in Manhattan, where he lives with his wife and two children.
Praise For…
---
Praise for Rules of Civility:

"An irresistible and astonishingly assured debut about working class-women and world-weary WASPs in 1930s New York…in the crisp, noirish prose of the era, Towles portrays complex relationships in a city that is at once melting pot and elitist enclave – and a thoroughly modern heroine who fearlessly claims her place in it." —O, the Oprah Magazine

"With this snappy period piece, Towles resurrects the cinematic black-and-white Manhattan of the golden age…[his] characters are youthful Americans in tricky times, trying to create authentic lives." —The New York Times Book Review

"This very good first novel about striving and surviving in Depression-era Manhattan deserves attention…The great strength of Rules of Civility is in the sharp, sure-handed evocation of Manhattan in the late '30s." —Wall Street Journal

"Put on some Billie Holiday, pour a dry martini and immerse yourself in the eventful life of Katey Kontent…[Towles] clearly knows the privileged world he's writing about, as well as the vivid, sometimes reckless characters who inhabit it." —People

"[A] wonderful debut novel…Towles [plays] with some of the great themes of love and class, luck and fated encounters that animated Wharton's novels." —The Chicago Tribune

"Glittering…filled with snappy dialogue, sharp observations and an array of terrifically drawn characters…Towles writes with grace and verve about the mores and manners of a society on the cusp of radical change." —NPR.org

 "Glamorous Gotham in one to relish…a book that enchants on first reading and only improves on the second." —The Philadelphia Inquirer
We appreciate your continued support!
If you would like to make a donation to help us through CLICK HERE.