A Man Called Destruction: The Life and Music of Alex Chilton, From Box Tops to Big Star to Backdoor Man (Paperback)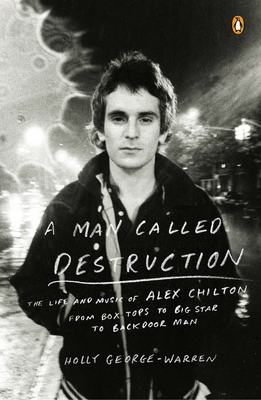 Email or call for price.
Special Order - Subject to Availability
Description
---
The first biography of the artist who "essentially invented indie and alternative rock" (Spin)

A brilliant and influential songwriter, vocalist, and guitarist, the charismatic Alex Chilton was more than a rock star—he was a true cult icon. Awardwinning music writer Holly George-Warren's A Man Called Destruction is the first biography of this enigmatic artist, who died in 2010. Covering Chilton's life from his early work with the charttopping Box Tops and the seminal power-pop band Big Star to his experiments with punk and roots music and his sprawling solo career, A Man Called Destruction is the story of a musical icon and a richly detailed chronicle of pop music's evolution, from the mid-1960s through today's indie rock.
About the Author
---
HOLLY GEORGE-WARREN is a two-time Grammy nominee and author of many books, including the New York Times bestseller The Road to Woodstock (with Michael Lang). She lives in upstate New York.
Praise For…
---
"Superb. . . . One of the best rock biographies of the past ten years."
—
The Washington Post
"It's a credit to Warren's unflinching tone that the Chilton of
Destruction
is a charismatic, oft-frustrating man unwilling to kowtow to anything or anyone ... You'll never hear his music the same way again."
—Los Angeles Times
"
A Man Called Destruction
is also the only thing about this criminally under-appreciated band you'll ever need to read. It does more than all the articles, books, documentary films, and cover albums with liner notes written by famous fanboys about how important and life-changing Big Star's recordings were combined…Nobody has done such a great job telling his story before. This is what makes Holly George-Warren's achievement such an important one, and
A Man Called Destruction
one of the most important books on the life and work of a musician to come out this year."
—Jason Diamond, Flavorwire
  
"This book is all Chilton, all the way."
—The New York Times
"A revelatory account of [Chilton's] career."
—NPR
 "A thoroughly reported biography illuminating the life and work of one of the more mystifying and influential cult figures in rock.... Chilton receives the biography he deserves."
—Kirkus Reviews (starred)
"The immensely gifted  and highly influential musician Alex Chilton has long deserved a big biography. Holly George-Warren's meticulously researched and beautifully written book shows us Chilton in all his mysterious glory.
A Man Called Destruction
gets to the heart of the man by focusing on the music he made (and the music that made him) with great precision and authority. I loved reading this sensitive, sympathetic, and intelligent portrait of a complicated and important figure."
—Dana Spiotta, author of Stone Arabia
"This book is the very definition of a labor of love. Every page of it is infused with Holly George-Warren's affection for and deep understanding of Alex Chilton and his groundbreaking work. Even its most candid moments are presented with empathy and a profound respect. Chilton could be thorny and difficult character -- he is fortunate to have found a biographer eager to untangle the knots of his character and to find the sweet heart beating within."
—Anthony DeCurtis, Contributing Editor, Rolling Stone
We appreciate your continued support!
If you would like to make a donation to help us through CLICK HERE.