A Childhood: The Biography of a Place (Paperback)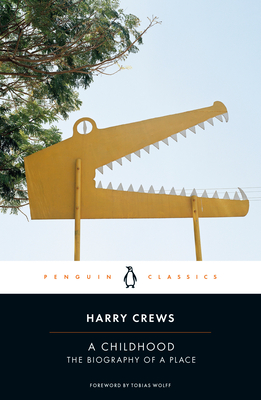 Staff Reviews
---
Set in the 1930s-1940s in the heart of rural Florida, Harry Crews chronicles his rough and tumble childhood. Harry's upbringing was one of a hard farm life, losing his birth father, gaining an alcoholic adoptive father, suffering a mysterious affliction that rendered his legs useless for long time, and nearly dying in boiling water. His rhetoric is surprising and comedic, leaving us with a view of American poverty in a time not so long ago.
— Carissa
Description
---
"One of the Finest Memoirs Ever Written" –The New Yorker

The highly acclaimed memoir of one of the most original American storytellers of the rural South

A Penguin Classic

Harry Crews grew up as the son of a sharecropper in Georgia at a time when "the rest of the country was just beginning to feel the real hurt of the Great Depression but it had been living in Bacon County for years." Yet what he conveys in this moving, brutal autobiography of his first six years of life is an elegiac sense of community and roots from a rural South that had rarely been represented in this way. Interweaving his own memories including his bout with polio and a fascination with the Sears, Roebuck catalog, with the tales of relatives and friends, he re-creates a childhood of tenderness and violence, comedy and tragedy.

About the Author
---
Harry Crews was born in 1935 at the end of a dirt road in Alma, Bacon County, Georgia, a rural community near the Okefenokee Swamp. His father, a tenant farmer, died before Harry was two years old. A mysterious childhood paralysis; a horrible scalding accident; his mother's second, turbulent marriage and divorce from a drunken uncle whom Crews had been led to believe was his natural father; and a move to Jacksonville, Florida, for his mother to find factory work were experiences that would feed his desire to imagine and, ultimately, to write. As a teen, Crews served a tour in the Marine Corps. On the GI Bill, Crews attended the University of Florida, where he earned a bachelor's degree in literature followed by a master's in education, with which he taught high-school and junior-college English. A protégé of Southern novelist Andrew Lytle, Crews published his first short story in the Sewanee Review in 1962. He published his first novel, The Gospel Singer, in 1968. Its publication earned Crews a new teaching job at the University of Florida and paved the way for the publication of seven more novels over the next eight years, including Naked in Garden Hills (1969); Car (1972); The Hawk Is Dying (1973), which was adapted into a film released in 2006; The Gypsy's Curse (1974); and the widely acclaimed A Feast of Snakes (1976). Crews's reputation as a bold and daring new voice in Southern writing grew during this time. In the 1970s, he wrote for popular magazines, including a monthly column for Esquire and essays for Playboy, and screenplays. In 1978, Crews's memoir of his youth, A Childhood: The Biography of a Place, was published to enduring acclaim. Two compilations of his nonfiction works, Blood and Grits and Florida Frenzy, were issued in 1979 and 1982, respectively. A decade of drug and alcohol abuse and creative lapses ended in 1987 with the publication of his ninth novel, All We Need of Hell. Crews retired from the classroom after teaching for thirty years at the University of Florida in Gainesville. Crews, who died in 2012 at age seventy-six, was a prominent writer in the literary genre known as Dirty South or Grit Lit, notable for its bizarre characters, grotesque violence, and satirical surrealism. His artistic forebears include William Faulkner, Flannery O'Connor, and Erskine Caldwell, but Crews remade Southern gothic in his own rough-hewn image in eighteen memorable novels, including Karate Is a Thing of the Spirit (1971), The Knockout Artist (1988), and Body (1990), dozens of riveting nonfiction pieces, and one of the finest memoirs in American literature. In 2002, the University of Georgia Libraries inducted Harry Crews into the Georgia Writers Hall of Fame.

Tobias Wolff (foreword) is the author of the novels The Barracks Thief and Old School, the memoirs This Boy's Life and In Pharaoh's Army, and the short story collections In the Garden of the North American Martyrs, Back in the World, and The Night in Question. Wolff has received the PEN/Malamud Award, the Rea Award, the Los Angeles Times Book Prize, the PEN/Faulkner Award, and in 2015, the National Medal of Arts.

Praise For…
---
"Reading Crews, I found the courage to tell the stories I'd been amassing my whole life."
—Mary Karr
 
"This memoir is for everyone. It's agile, honest and built as if to last. Like its author, it's a resilient American original."
—Dwight Garner, The New York Times

"…the memoir is flawless, one of the finest ever written by an American….[it] answers some specific questions, namely where its author came from and how he became a writer, but it asks broader ones, too: why anyone becomes anything, how we square our pasts with our futures, and why certain things—a book, its author—are rescued from oblivion."
—Casey Cep, The New Yorker

"Critics and awards anoint some authors as legends. Others depend on word-of-mouth and prose that stands the test of time….There is nothing folksy, never mind pastoral or genteel, about Crews. With caustic and fabulist writing, he exhumed the ghosts of America's original sin…..Crews captured the raw essence of humanity in both fiction and nonfiction. Side by side, these reissues form the complete picture of an imperfect man who charged hard into extremes to escape his cultural inheritance."
—Lauren Leblanc, Los Angeles Times

"Of all of Crews' magnificent output, it is A Childhood: The Biography of a Place, first published in 1978 that is the most memorable and is written in a language that will sear the mind and memory…. There are startlingly wild scenes written with hair raising power….This review cannot begin to capture the power of the writing of Harry Crews nor the essence of this portrait of the life of a sharecropping family in the Great Depression. All that can be said is, read it. The power of the written word will never be made more clear."
—New York Journal of Books