My Berlin Kitchen: Adventures in Love and Life (Paperback)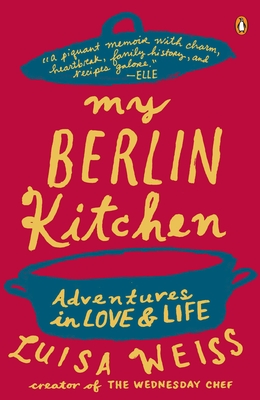 $17.00
This item is not currently available to order.
Description
---
"The new Julie & Julia!. . .You'll finish a chapter and find yourself in the kitchen." –Marie Claire

The Wednesday Chef (and author of Classic German Baking) finds her way home—a story of love, life, and the search for the perfect ragú  

It takes courage to turn your life upside down, especially when everyone is telling you how lucky you are. But sometimes what seems right can feel deeply wrong. My Berlin Kitchen tells the story of how one thoroughly confused, kitchen-mad romantic found her way to a new life, a new man, and a new home in Berlin.

Luisa Weiss was working in New York and about to get engaged when she decided to bake, roast, and stew her way through her huge collection of recipes. She started a blog to document her adventures. The Wednesday Chef was an instant sensation, bewitching readers who fell in love with Luisa and cheered her growing confidence. My Berlin Kitchen chronicles Luisa's decision to give up the life she had built and move across the ocean in search of happiness—only to find love waiting where she least expected it.
 
"A poignant memoir with charm, heartbreak, family history, and recipes galore." –Elle

"Luisa has a way of telling a story that's nothing short of entrancing." –Deb Perelman, author of The Smitten Kitchen Cookbook

"Beautiful and inspiring. . . a remarkable and delicious tale of the romance of a lifetime." –Kathleen Flinn, author of The Sharper Your Knife, the Less You Cry


"For anyone who's ever moved away from home, only to find that nowhere in the world is quite as special, My Berlin Kitchen is a lovely (and delicious-recipe-filled) read." —Serious Eats
About the Author
---
Luisa Weiss was born in West Berlin and spent her childhood shuttling back and forth between her Italian mother in Berlin and her American father in Boston. She is also the author of the cookbook Classic German Baking. She now lives in Berlin with her husband and son.
Praise For…
---
"Luisa Weiss's piquant memoir has charm, heartbreak, family history, and recipes galore."
—Elle
"The new
Julie & Julia
! It's part cookbook and part memoir; you'll finish a chapter and find yourself in the kitchen following the recipe Weiss includes . . . A transcontinental romance about taking risks in life and in the kitchen."
—Marie Claire
"For anyone who's ever moved away from home, only to find that nowhere in the world is quite as special,
My Berlin Kitchen
is a lovely (and delicious-recipe-filled) read."
—Serious Eats
"There are love stories, and then there are 
love stories
. Luisa Weiss's falls into the latter category, an honest-to-god tale of love lost, found, and happily ended. And, as a bonus, there's food. Indeed, every page is more delightful and delicious than the one before. Brimming with forty recipes borrowed from Weiss's friends and family and from famous chefs like Alice Waters and Jamie Oliver, then stripped down and perfected by Weiss herself, the book is a mix of travelogue, memoir, cookbook, and a touch of fairytale."
—East Bay Express
"A mouthwatering tribute to Berlin and a love letter to food, romance and following your heart. . . . Weiss vividly evokes the flavors of German, Italian, and American cuisine. . . . The characters around each table come to life as vibrantly as the food, and Weiss adds helpful hints to the recipes that crown each chapter."
—Shelf Awareness
"A heartwarming (and often mouth-watering) memoir, German-born chef and writer Weiss recounts how . . . through hardship and heartbreak, she found solace among saucepans and stews. . . . Foodies and nonfoodies alike will enjoy chapters brimming with colorful cooking tales and savory recipes."
—Allison Block, Booklist (starred review)
"A thoughtful, earnestly winning memoir."
—Publishers Weekly
"This charming food memoir will prove enjoyable to anyone who loves Laurie Colwin or M.L.K. Fisher."
—Library Journal
"I hope you're prepared to clear a day or two of your schedule once you open this book, because you're not going to want to put it down to do anything—well, anything but make a beeline for the kitchen to make a rolled omelet or fake baked beans. Luisa has a way of telling her story that's nothing short of entrancing."
—Deb Perelman, creator of Smitten Kitchen
"A beautiful and inspiring story about how we sometimes have to take a leap of faith to follow our life's passion. I was so charmed by Luisa Weiss's honesty, vulnerabilities, and beautiful writing—all while craving braised endives. A lovely, remarkable, and delicious tale of the romance of a lifetime."
—Kathleen Flinn, author of The Sharper Your Knife, the Less You Cry
"
My Berlin Kitchen
is a truly remarkable memoir, told with sensitivity and honesty. Filled with the emotions—and flavors—of a life that spans three cultures and cuisines, this is a book you won't want to put down, except to make its enticing recipes."
—David Lebovitz, bestselling author of The Sweet Life in Paris
"Luisa Weiss writes with grace and ease about her search for a sense of belonging in
My Berlin Kitchen
. That she also cooks appealing dishes and writes beautifully about food only adds dimension to her wonderful memoir. You will read with intense delight, cheering her on through heartbreak and triumphs."
—Amanda Hesser, cofounder of Food52 and author of The Essential New York Times Cookbook and Cooking for Mr. Latte
"Luisa's heartfelt and engrossing memoir will resonate deeply with anyone who's ever sensed the profound connection between the food we eat and our sense of home."
—Clotilde Dusoulier, creator of Chocolate & Zucchini and author of Clotilde's Edible Adventures in Paris
"Part culinary journal, part love story,
My Berlin Kitchen
chronicles a young woman's (often) difficult task of finding her way in the world. With the charm and honesty that is characteristic of her wonderful blog, Luisa Weiss has crafted a book that leaves a deep impression."—Heidi Swanson, creator of 101 Cookbooks and bestselling author of
Super Natural Cooking