Blood Matters: From Inherited Illness to Designer Babies, How the World and I Found Ourselves in the Future of the Gene (Hardcover)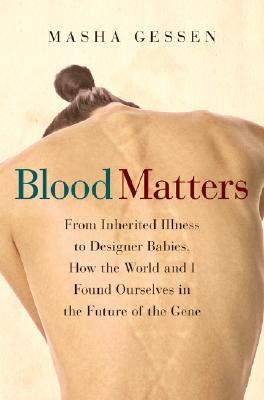 $25.00
This item is not currently available to order.
Description
---
In 2004 genetic testing revealed that Masha Gessen had a mutation that predisposed her to ovarian and breast cancer. The discovery initiated Gessen into a club of sorts: the small (but exponentially expanding) group of people in possession of a new and different way of knowing themselves through what is inscribed in the strands of their DNA. As she wrestled with a wrenching personal decision—what to do with such knowledge—Gessen explored the landscape of this brave new world, speaking with others like her and with experts including medical researchers, historians, and religious thinkers.
Blood Matters is a much-needed field guide to this unfamiliar and unsettling territory. It explores the way genetic information is shaping the decisions we make, not only about our physical and emotional health but about whom we marry, the children we bear, even the personality traits we long to have. And it helps us come to terms with the radical transformation that genetic information is engineering in our most basic sense of who we are and what we might become.
About the Author
---
MASHA GESSEN is a journalist who has written for Slate, Seed, the New Republic, the New York Times, and other publications, and is the author of numerous books, including The Future is History, which has been nominated for the National Book Award. 
Praise For…
---
PRAISE FOR ESTER AND RUZYA

"Reviewers sometimes call a work of nonfiction 'as exciting as a novel,' but that would be an understatement applied to this extraordinary family memoir . . . Ester and Ruzya will remind you how much life, history and emotional and moral complexity the genre can convey in the hands of a wonderful writer."—The New York Times Book Review

"Blood Matters is valuable reading to almost anyone facing a huge health decision, not only for the literary commiseration it offers, but also for the inspired example of medical sleuthing on one's own behalf that it provides ... The enduring memory one takes away is Gessen's intelligence and wit as she's staring down the barrel of a gun."
— The New York Times