We, the Drowned (Hardcover)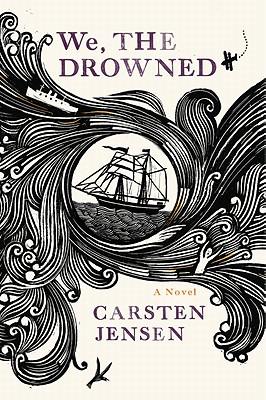 $29.40
Email or call for price.
Fall '12 Reading Group List
---
"Spanning the years from 1848 to 1945, We, the Drowned follows the sailors of Marstal ' a tiny town on the island of Aero in the Danish archipelago ' as they travel the oceans of the world as adventurers, soldiers, sailors, fathers, and sons. As each narrative voice moves on, another picks up the tale and makes it his own. Funny and poignant, heartwarming and powerful, dark and foreboding in a way that only the events of our own world can actually be. This is a gorgeous and gripping novel."
— Seth Marko, UCSD Bookstore, La Jolla, CA
Description
---
Carsten Jensen's debut novel has taken the world by storm. Already hailed in Europe as an instant classic, We, the Drowned is the story of the port town of Marstal, whose inhabitants have sailed the world's oceans aboard freight ships for centuries. Spanning over a hundred years, from the mid-nineteenth century to the end of the Second World War, and from the barren rocks of Newfoundland to the lush plantations of Samoa, from the roughest bars in Tasmania, to the frozen coasts of northern Russia, We, the Drowned spins a magnificent tale of love, war, and adventure, a tale of the men who go to sea and the women they leave behind.
Ships are wrecked at sea and blown up during wars, they are places of terror and violence, yet they continue to lure each generation of Marstal men—fathers and sons—away. Strong, resilient, women raise families alone and sometimes take history into their own hands. There are cannibals here, shrunken heads, prophetic dreams, forbidden passions, cowards, heroes, devastating tragedies, and miraculous survivals—everything that a town like Marstal has actually experienced, and that makes We, the Drowned an unforgettable novel, destined to take its place among the greatest seafaring literature.
About the Author
---
As a boy in Marstal, Denmark, CARSTEN JENSEN sailed on his father's boat, a 220-ton freighter named the Abelone. In 2000, he returned to Marstal to write We, the Drowned. He has also worked as a literary critic and a journalist, reporting from China, Cambodia, Latin America, the Pacific Islands, and Afghanistan.
We, the Drowned won Denmark's most important literary prize, while also being selected by readers of a major daily newspaper as the best Danish novel of the last twenty-five years. It was a bestseller throughout Scandinavia and in Germany, and has also been published in the United Kingdom, Spain, and France.
Praise For…
---
We, The Drowned is "most memorable for the sheer gusto of its narrative. The author ennobles the old-fashioned art of storytelling by showing how the relating of a tale can itself foster a spirit of fellowship... We, The Drowned is itself a monument to the way that history can be made epic through legend."
-The Wall Street Journal

"As an epic of grand design, We, The Drowned is a thumping success."
-The San Francisco Chronicle

"Powerful reading for a long winter's night... This gorgeous, unsparing novel ends during the last days of World War II with a captain struggling to bring his crew home after their ship is torpedoed. The sea is Marstal's life and Jensen's unstrained metaphor: luring the Marstallers away from home, offering uncertain passage and providing few harbors that are safe for long."
-The Washington Post

"From adventures on the storm-ravaged seas and in exotic lands, to battles in town over the shipping industry and family life, dozens of stories coalesce into an odyssey taut with action and drama and suffused with enough heart to satisfy readers who want more than the breakneck thrills of ships battling the elements."
-Publishers Weekly (starred)

"For all the brutality and suspense in the manner of Conrad, Melville, and Stevenson, Jensen's oceanic novel (already a bestseller overseas and gorgeously translated) is tenderly human . . . Jensen's resplendent saga, an epic voyage of the imagination, is mesmerizing in its unsparing drama, fascinating in its knowledge of the sea, wryly humorous, and profound in its embrace of compassion, reason, and justice." 
—Booklist (starred)

"Expertly told . . . Jensen is a sympathetic storyteller with an eye for the absurd, with the result that if this novel descends from Moby-Dick, it also looks to The Tin Drum for inspiration . . . An elegant meditation on life, death, and the ways of the sea." 
—Kirkus Reviews

"...vast and daring... rich, powerful and rewarding... one of the more engrossing literary vorages of recent years."
-The Financial Times (UK)

"Carsten Jensen is without doubt one of the most exciting authors in Nordic literature today. I always wait with great anticipation for his books. He is, in my opinion, completely unique as a story teller." 
—Henning Mankell

"A novel of immense authority and ambition and beauty, by a master storyteller at the height of his powers. This is a book to sail into, to explore, to get lost in, but it is also a book that brings the reader, dazzled by wonders, home to the heart from which great stories come." 
—Joseph O'Connor, author of Star of the Sea