Tears Into Wine: J. S. Bach's Cantata 21 in Its Musical and Theological Contexts (Hardcover)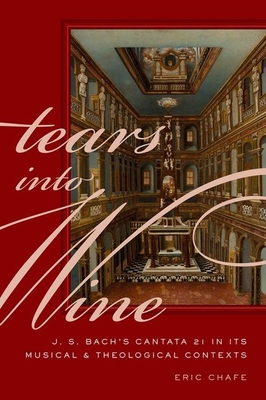 $216.00

Available in our Warehouse: Usually Ships in 3-8 Days
Description
---
In 1714, the 29 year-old Johann Sebastian Bach was promoted to the position of concertmaster at the ducal court of Weimar. This post required him for the first time in his already established career to produce a regular stream of church cantatas-one cantata every four weeks. Among the most significant works of this period is Ich hatte viel Bek mmernis in meinem Herzen (Cantata 21). Generally known in English as "I had much affliction," Cantata 21 draws from several psalms and the Book of Revelations and offers a depiction of the spiritual ascent of the soul from intense tribulation to joy and exaltation. Although widely performed and loved by musicians, Cantata 21 has endured much criticism from scholars and critics who claim that the piece lacks organizational clarity and stylistic coherence. In Tears into Wine, renowned Bach scholar Eric Chafe challenges the scholarly consensus, arguing that Cantata 21 is an exceptionally carefully designed work, and that it displays a
convergence of musical structure and theological purpose that is paradigmatic of Bach's sacred work as a whole. Drawing on a wide range of Lutheran theological writing, Chafe shows that Cantata 21 reaches beyond the scope of the individual liturgical occasion to voice a breadth of meaning that encompasses much of the core of Lutheran thought. Chafe artfully demonstrates that instead of simply presenting a musical depiction of the soul's journey from sorrow to bliss, Cantata 21 expresses the various stages of God's revelation and their impact on the believing soul. As a result, Chafe reveals that Cantata 21 has a formal design that mirrors Lutheran belief in unfolding revelation, with the final movement representing the work's "crown"--the goal toward which all of the earlier movements are directed. Complete with full text translations of the cantata and the liturgical readings that would have accompanied it at the first performance, Tears into Wine is a monumental book that is ideally suited for Bach scholars and students, as well as those generally interested in the relationship between
theology and music.

About the Author
---
Eric T. Chafe is Victor and Gwendolyn Beinfield Professor of Music at Brandeis University, where he has taught since 1982. His primary research areas are the music of J. S. Bach, on which he has published several books and numerous articles, Wagner (a book on Tristan und Isolde), and Monteverdi. His books have won the AMS Kinkeldey Award and the ASCAP Deems Taylor Award.