Categoriality in Language Change: The Case of the English Gerund (Oxford Studies in the History of English) (Hardcover)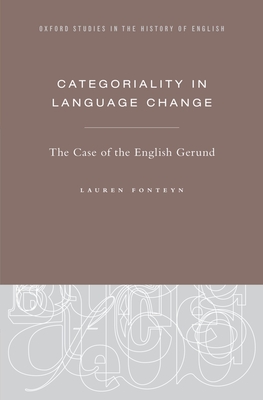 $216.00

Available in our Warehouse: Usually Ships in 3-8 Days
Description
---
This book presents the first serious attempt to set out a functional-semantic definition of diachronic transcategorial shift between the major classes noun/nominal and verb/clause. In English, speakers have different options to refer to an event, ranging from that-clauses (That he had guessed her size) over infinitives (For him to guess her size) and verbal gerunds (Him guessing her size) to nominal gerunds (His guessing of her size) and deverbal nouns (His guess of her size). Interestingly, not only do these strategies each resemble "prototypical" nominals to varying extents, but also some of these strategies increasingly resemble clauses and decreasingly resemble prototypical nominals over time, as if they are gradually shifting categories. Thus far, the literature that has dealt with such cases of diachronic categorial shift has mainly described the processes by focusing on form, leaving us with a clear picture of what and how changes have occurred. Yet, the question of why
these formal changes have occurred is still shrouded in mystery. In this book, Lauren Fonteyn tackles this mystery by showing that the diachronic processes of nominalization and verbalization can also involve functional-semantic changes in two steps. First, building on functionalist and cognitive models of grammar, she offers a theoretical model of categoriality that allows us to study diachronic nominalization and verbalization not just as morphosyntactic but also as functional-semantic processes. Second, she offers more concrete, "workable" definitions of the abstract functional-semantic properties of the nominal and verbal/clausal class, which are subsequently applied to one of the most intriguing deverbal nominalization systems in the history of English: the English gerund.

About the Author
---
Lauren Fonteyn is Assistant Professor in English Language and Linguistics at the University of Leiden.