The Basque Country: A Cultural History (Landscapes of the Imagination) (Hardcover)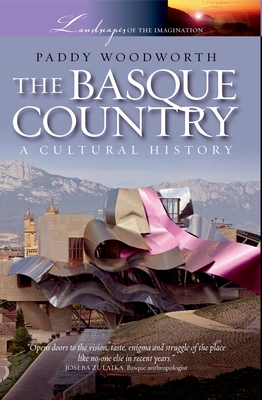 $53.93
This item is not currently available to order.
Description
---
The Basque Country is a land of fascinating paradoxes and enigmas. Home to one of Europe's oldest peoples and most mysterious languages, with a living folklore rich in archaic rituals and dances, it also boasts a dynamic modern energy, with the reinvention of Bilbao creating a model for the twenty-first-century city. In The Basque Country, Paddy Woodworth takes us on a sweeping tour of this enchanting land. We discover a small territory which abounds in big contrasts, ranging from moist green valleys to semi-desert badlands, from snowy sierras to sandy beaches, from harsh industrial landscapes to bucolic beech woods. The book reveals how this often idyllic scenery forms the backdrop for a land of ancient and modern culture, where Basque poets still compose spontaneous stanzas in public contests and where strange age-old sports--rock lifting, goose decapitation--are still held at fiestas. Likewise, the region has made important contributions to modern culture, through novelists like Bernardo Atxaga, sculptors like Eduardo Chillida, painters like Zuluoaga, and cineastes like Julio Medem. And of course Bilbao's flagship museum, the Guggenheim, designed by Frank O. Gehry, may be the best work of architecture of the last century. Here then is a marvelous guide to the culture and landscape of one of the most intriguing places on Earth.

About the Author
---
Paddy Woodworth has written about the Basque Country for thirty years, and is the author of Dirty War, Clean Hands: ETA, the GAL and Spanish Democracy, described by Paul Preston as "one of the best books ever published on post-Franco Spain."