The American Dictionary of Criminal Justice: Key Terms and Major Court Cases (Abridged / Paperback)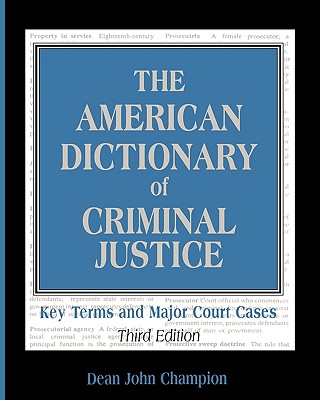 $83.93

Available in our Warehouse: Usually Ships in 3-8 Days
Description
---
The Third Edition of The American Dictionary of Criminal Justice is a reference every student of the criminal justice system should own. Like any good dictionary, this resource will assist students in a variety of courses--as well as in writing papers and understanding terminology in journal
articles. Over 5,000 terms, concepts, and names are included in the new edition, as well as over 125 new U.S. Supreme Court cases. The Terms Section The dictionary's interdisciplinary approach greatly enhances its effectiveness as a one-stop resource. Students will no longer need to waste precious study time seeking out definitions in numerous specialized sources. Many definitions are accompanied by examples from the research literature,
illustrating how the terms apply in particular contexts. This dictionary is useful for any criminology or criminal justice course--with applications in sociology, public administration, political science, and the administration of justice. Key terms cut across the following areas: criminal law, criminal justice, forensics, gangs, computers and computer crime, criminal investigations, criminology, criminological theory, corrections, probation and parole, courts and sentencing, rules of criminal procedure, constitutional law, policing
and police-community relations, jails and prisons, white-collar crime, sodomy laws, civil rights, tort law, victimization, juvenile law, Section 1983 actions, capital punishment, electronic surveillance, fines and asset forfeiture, deadly force, search and seizure, wrongful convictions, the Prison
Litigation Reform Act of 1995, and the Antiterrorism and Effective Death Penalty Act of 1996. The dictionary includes numerous illustrations, figures, and tables that provide readers with visual portrayals of important criminal justice facts. A comprehensive listing of over 30 doctoral programs in criminal justice is provided, together with useful contact information. An extensive listing of Internet sites is provided for locating useful information regarding important topics associated with law enforcement, the courts, and corrections. Also featured are listings of all probation/parole and state corrections departments and relevant contact information. Finally, this section provides listings of leading criminological theorists, a summary of their major theoretical contributions, and brief synopses of their written works. Many theorists are cross-referenced with other scholars studying similar phenomena. The Supreme Court Cases Section Nine hundred and eighty of the most recent and significant leading U.S. Supreme Court cases have been abridged in a short paragraph format to highlight the major facts, holdings, and rationales. The complete case citations are boldfaced in brackets for more complete information about the case
principals (e.g., Penry v. Johnson, 532 U.S. 782, 121 S.Ct. 1910 (2001) Johnny Paul PENRY, Petitioner, v. Gary L. JOHNSON, Director, Texas Department of Criminal Justice, Institutional Division] (Habeas Corpus Petitions; Jury Instructions; Sentencing). All leading cases have major terms boldfaced to indicate case content. A sample of current cases includes: Bunkley v. Florida (2003) retroactive rules
Chavez v. Martinez (2003) Section 1983 rules
Ewing v. California (2003) habitual offender statutes
Illinois v. Lidster (2004) sobriety checkpoints
Kaupp v. Texas (2003) confessions
Khanh Phuong Nguyen v. United States (2003) federal appellate judge qualifications
Lawrence v. Texas (2003) sodomy laws
Lockyer v. Andrade (2003) three-strike laws
Maryland v. Pringle (2003) vehicle searches
Massaro v. United States (2003) ineffective assistance of counsel
Miller v. Cockrell (2003) peremptory challenges
Mitchell v. Esparza (2004) death penalty and harmless error doctrine
Overton v. Bazzetta (2003) civil rights, Section 1983 claims
Price v. Vincent (2003) double jeopardy
Sell v. United States (2003) forced medication of mentally ill patients
Smith v. Doe (2003) ex post facto laws
Stogner v. California (2003) sex offender laws
United States v. Banks (2003) knock and announce and exigent circumstances All major criminal justice topics have been incorporated into the compilation of cases, including such topics as: Acceptance of Responsibility
Aggravating and Mitigating Circumstances
Americans with Disabilities Act
Antiterrorism and Effective Death Penalty Act of 1996
Armed Career Criminal Act (ACCA)
Asset Forfeiture
Border Searches
Civil Rights, Section 1983
Claims
Confessions
Custodial Interrogations
Deadly Force
Death-Qualified Juries
Discovery
Detainer Warrants
DNA Profiling
Double Jeopardy
Electronic Surveillance, Wiretapping
Evidence Preservation
Exclusionary Rule
Excessive Force
Ex Post Facto Laws
Fines
Forced Medication of Mentally Ill Defendants
Frivolous Lawsuits
Good-Faith Exception
Gun Control Bill
Habeas Corpus Petitions
Habitual Offender Statutes
Hearsay
Immigration Checkpoints
Ineffective Assistance of Counsel
In Forma Pauperis Motions
Innocent-Owner Defense
Judicial Misconduct
Jury Size, Trials, and Voting
Juvenile Law
Knock and Announce
Lineups
Mandatory Death Penalty
Media Rights
Mens Rea
Motion Deadlines
Native American Tribal Law
Obscenity Laws
Parolee Rights
Peremptory Challenges
Plea Bargaining
Police Misconduct
Preventive Detention
Prison Litigation Reform Act
Retroactive Rules
Sex Offender Laws
Sexual Predators
Sobriety Checkpoints
Sodomy Laws
Sterilization
Stop and Frisk
Supervised Release Regulations
Thermal Imaging Equipment
Trash Searches
Victim Impact Statements
Wrongful Convictions Many of these cases are cross-cited to facilitate research. These cases are indexed according to over 140 topics and include page number references for easy usage. Champion provides explanations of citation protocol for referencing legal citations, including citing the U.S. Reports, Supreme Court Reporter, and regional state supreme court compilations and reporters such as the Pacific Reporter and Southwestern Reporter. Crucial U.S. Constitutional Amendments
are cited whenever applicable in the compilation. A unique feature is the explanation of how to cite and interpret case materials.