Portuguese Relative Clauses in Synchrony and Diachrony (Oxford Studies in Diachronic and Historical Linguistics) (Hardcover)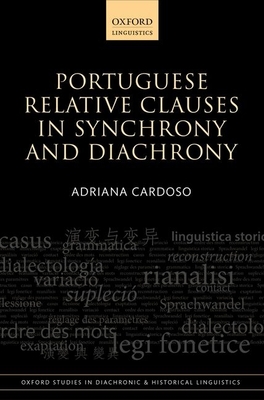 $182.25

Available in our Warehouse: Usually Ships in 3-8 Days
Description
---
This book explores language variation and change from the perspective of generative syntax, based on a case study of relative clauses in contemporary European Portuguese and earlier stages of Portuguese. Adriana Cardoso offers a comparative account of three linguistic phenomena in the synchrony and diachrony of Portuguese-remnant-internal relativization, extraposition of restrictive relative clauses, and appositive relativization-and shows that the changes affecting these structures conspired to reduce the patterns of nominal discontinuity available in the language. Adopting a cross-linguistic perspective, she additionally shows that this series of changes transformed Portuguese from a 'Germanic-like' language, with a wide range of phrasal discontinuities, to a 'non-Germanic type', with more restricted patterns of discontinuity. The volume will be of particular interest to scholars working on Portuguese syntax, but also to Romance linguists and all those interested in historical
and comparative syntax more widely.

About the Author
---
Adriana Cardoso is Assistant Professor at the Higher Education College of Lisbon and Researcher at the Linguistics Centre of the University of Lisbon. Her main research interests are historical linguistics, comparative syntax, and educational linguistics. She was recently involved in the WOChWEL project (Word Order and Word Order Change in Western European Languages), and is the co-editor, with Ana Maria Martins, of the forthcoming OUP volume Word Order Change.