Synaesthesia: A Very Short Introduction (Very Short Introductions) (Paperback)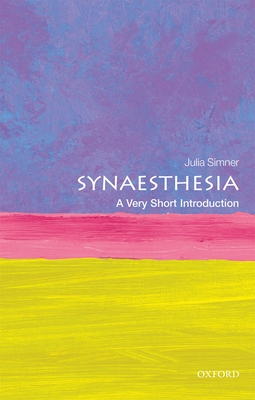 Description
---
Can you taste words, feel flavours as a shape, or hear colors? If so you may well have synaesthesia, a neurological condition that gives rise to a 'merging of the senses'. This Very Short Introduction describes synaesthesia's many forms, and delves into the underlying neuroscience. Explaining the scientific basis for synaesthesia, Julia Simner considers how we can measure the effects synaesthesia has on the everyday lives of people living with it. Exploring the
fascinating stories of different synaesthetes' experiences of the world, she also discusses the documented links between synaesthesia, childhood development, memory, personality, and artistic creativity, and the potential limitations synaesthesia might impose. ABOUT THE SERIES: The Very Short Introductions series from Oxford University Press contains hundreds of titles in almost every subject area. These pocket-sized books are the perfect way to get ahead in a new subject quickly. Our expert authors combine facts, analysis, perspective, new ideas, and
enthusiasm to make interesting and challenging topics highly readable.

About the Author
---
Julia Simner is a neuropsychologist and researcher in the field of synaesthesia research and multi-sensory processing. Her education and career have taken her to the Universities of Oxford, Toronto, Edinburgh and Sussex, and she now runs the Synesthesia and Sensory Integration lab at the Universityof Sussex. She is the Science Officer for the UK Synaesthesia Association, Director of the ERC-funded MULTISENSE project, and Director of the Savant Network. Her previous book, The Oxford Handbook of Synesthesia was recently shortlisted for the British Medical Association's Medical Book of theYear.