The Irish Presbyterian Mind: Conservative Theology, Evangelical Experience, and Modern Criticism, 1830-1930 (Hardcover)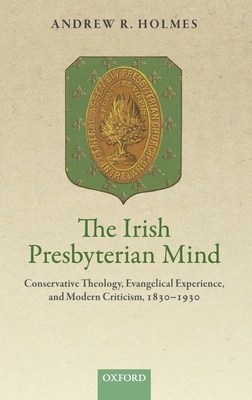 $132.30

Available in our Warehouse: Usually Ships in 3-8 Days
Description
---
The Irish Presbyterian Mind considers how one protestant community responded to the challenges posed to traditional understandings of Christian faith between 1830 and 1930. Andrew R. Holmes examines the attitudes of the leaders of the Presbyterian Church in Ireland to biblical criticism,
modern historical method, evolutionary science, and liberal forms of protestant theology. He explores how they reacted to developments in other Christian traditions, including the so-called 'Romeward' trend in the established Churches of England and Ireland and the 'Romanisation' of Catholicism. Was
their response distinctively Presbyterian and Irish? How was it shaped by Presbyterian values, intellectual first principles, international denominational networks, identity politics, the expansion of higher education, and relations with other Christian denominations? The story begins in the 1830s
when evangelicalism came to dominate mainstream Presbyterianism, the largest protestant denomination in present-day Northern Ireland. It ends in the 1920s with the exoneration of J. E. Davey, a professor in the Presbyterian College, Belfast, who was tried for heresy on accusations of being a
'modernist'. Within this timeframe, Holmes describes the formation and maintenance of a religiously-conservative intellectual community. At the heart of the interpretation is the interplay between the Reformed theology of the Westminster Confession of Faith and a commitment to common evangelical
principles and religious experience that drew protestants together from various denominations. The definition of conservative within the Presbyterian Church in Ireland moved between these two poles and could take on different forms depending on time, geography, social class, and whether the
individual was a minister or a member of the laity.
About the Author
---
Andrew Holmes is Lecturer in the School of History, Anthropology, Philosophy, and Politics at Queen's University Belfast. He was elected Fellow of the Royal Historical Society in 2007 and Fellow of the Higher Education Academy in 2008. He is currently a member of the Editorial Board of IrishHistorical Studies and a committee member of the Ulster Society for Irish Historical Studies. In 2016, he was an Eaton Fellow at the University of New Brunswick and has previously been a Visiting Scholar at Boston College (2011) and at the School of Divinity, University of Edinburgh (2009, 2013). Heis the author of The Shaping of Ulster Presbyterian Belief and Practice, 1770-1840 (2006).