A Grammar of Akabea (Hardcover)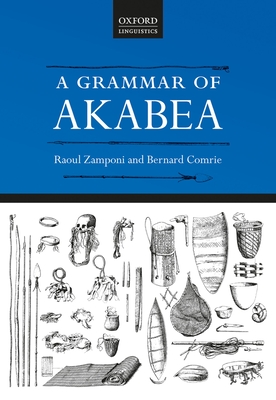 $189.00

Available in our Warehouse: Usually Ships in 3-8 Days
Description
---
This volume is the first extensive and reliable grammatical description of any traditional language of the Great Andamanese family. Akabea died out in the 1920s, but was extensively documented in the late nineteenth century by two British administrators, Edward Horace Man and Maurice Vidal Portman. Although neither was a trained linguist, their material nonetheless provides a sufficient basis for a reliable analysis of Akabea grammar, especially its morphology and its phrasal and clausal syntax, although there are inevitable limitations on our understanding of Akabea phonology, clause combining, and discourse structure. The grammar is accompanied by an online appendix that provides a diplomatic edition with commentary and analysis of the single most valuable resource for Akabea grammatical analysis, Portman's Dialogues.
Raoul Zamponi and Bernard Comrie's Grammar of Akabea offers a unique insight into the culture, history, and prehistory of the Andaman Islands, and also broadens our understanding of the human capacity for language. It highlights the typologically interesting and cross-linguistically rare traits of the language, such as a rich system of somatic (body-part) prefixes and the phenomenon of Verb Root Ellipsis, whereby under certain circumstances the root of a verb may be absent, leaving behind a grammatical word consisting solely of affixes. The project at last makes this valuable evidence accessible both to linguists and to interested scholars from other disciplines, such as anthropology, history, and genetics.

About the Author
---
Raoul Zamponi, Independent Scholar, Bernard Comrie, Distinguished Faculty Professor of Linguistics, University of California, Santa Barbara Raoul Zamponi works primarily on little-known, extinct indigenous languages of the Americas and is currently working on a project for the Max Planck Institute for the Science of Human History in Jena. He has previously held positions at the University of Siena and as Principal Investigator on a range of linguistic projects in Italy, Germany, and the USA. His work has been published in journals such as Anthropological Linguistics and International Journal of American Linguistics as well as in edited volumes from OUP, De Gruyter, and Edinburgh University Press. Bernard Comrie is Distinguished Professor of Linguistics at the University of California, Santa Barbara. He is a world-renowned scholar in the areas of language universals and typology, historical linguistics, and linguistic fieldwork. He is a Fellow of the British Academy, the author of several volumes, and the editor or co-editor of many more, including The World Atlas of Language Structures (OUP 2005). His most recent work has been in collaboration with population geneticists, archaeologists, and anthropologists in order to address questions relating to prehistoric human migrations. In 2017 he received the Neil & Saras Smith Medal for Linguistics, a lifetime achievement award from the British Academy.