Immersion: A Writer's Guide to Going Deep (Chicago Guides to Writing, Editing, and Publishing) (Paperback)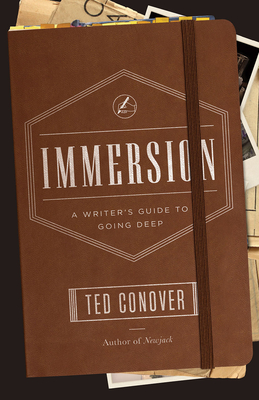 $19.80

Available in our Warehouse: Usually Ships in 3-8 Days
Description
---
Over three and a half decades, Ted Conover has ridden the rails with hoboes, crossed the border with Mexican immigrants, guarded prisoners in Sing Sing, and inspected meat for the USDA. His books and articles chronicling these experiences, including the award-winning Newjack: Guarding Sing Sing, have made him one of the premier practitioners of immersion reporting.

In immersion reporting—a literary cousin to ethnography, travel writing, and memoir—the writer fully steps into a new world or culture, participating in its trials, rites, and rituals as a member of the group. The end results of these firsthand experiences are familiar to us from bestsellers such as Nickel and Dimed and Behind the Beautiful Forevers. But in a world of wary strangers, where does one begin?

Conover distills decades of knowledge into an accessible resource aimed at writers of all levels. He covers how to "get into" a community, how to conduct oneself once inside, and how to shape and structure the stories that emerge. Conover is also forthright about the ethics and consequences of immersion reporting, preparing writers for the surprises that often surface when their piece becomes public. Throughout, Conover shares anecdotes from his own experiences as well as from other well-known writers in this genre, including Alex Kotlowitz, Anne Fadiman, and Sebastian Junger. It's a deep-in-the-trenches book that all aspiring immersion writers should have in hand as they take that first leap into another world. 
About the Author
---
Ted Conover is a journalist and associate professor of journalism at New York University. His book Newjack: Guarding Sing Sing won the National Book Critics Circle Award in 2000 and was a finalist for the Pulitzer Prize. Conover is also the author of Rolling Nowhere: Riding the Rails with America's Hoboes; Coyotes: A Journey Across Borders with America's Mexican Migrants; Whiteout: Lost in Aspen; and The Routes of Man: Travels in the Paved World. He regularly writes for the New York Times, Harper's, the Atlantic, and many other publications.
Praise For…
---
"Immersion is a tricky business, and there's clearly a need for savvy guidance from a wise, experienced practitioner. Who better than Ted Conover? With five immersion books to his credit and articles published in the country's most prestigious magazines, he's one of the world's most accomplished immersion journalists."
 
— Jack Hart, author of Storycraft:The Complete Guide to Writing Narrative Nonfiction

"Ted Conover was one of three or four authors I openly emulated when I was trying to learn the craft of writing. The worlds he immersed himself in were raw and desperate and dangerous and exactly the kinds of topics that I, myself, wanted to write about. I only wish he had written this book decades ago so that I would have had a little more guidance. Conover is a wonderful, kind, thoughtful teacher, and this book allows us all the chance to experience being his student for a little while. What a pleasure."
— Sebastian Junger, author of Tribe: On Homecoming and Belonging and War

"A vital, engrossing guide that is, in essence, an intimate conversation with a master of the form. This book is absolutely essential for writers of creative nonfiction, and a fascinating look inside the process for any reader."
— Susan Orlean author of Rin Tin Tin: The Life and the Legend and The Orchid Thief

"Conover distills decades of hard-won knowledge into a how-to guide for journalists."
— Columbia Journalism Review

"The country's reigning master of immersion reporting."
— Nieman Storyboard

"The recommended guidebook for aspiring non-fiction writers."
— Portland Book Review

"A warm and generous guide for students and others aspiring to produce the kind of finely observed prose that represents journalism's literary
apex. Conover, who took a job as a prison guard to write Newjack and who is an associate professor of journalism at New York University, covers the basics of
researching and writing longform narrative nonfiction in Immersion: A Writer's Guide to Going Deep. His clear voice and thoughtful instructions will be invaluable to undergraduate and graduate students embarking on their first ambitious projects. Professors and veteran journalists will appreciate Conover's definition of immersion journalism, his defense of craft, and his discourse on ethics."
— Journalism & Mass Communication Quarterly

"Conover calls upon the wellspring of his own experience (as author of five potent books based on immersion experiences) and a treasure trove of over seventy significant examples of immersion writing, detailed in an annotated bibliography. . . . His approach is conversational throughout, with well-placed reflections on decisions that affected his own oeuvre. Readers need not be familiar with Conover's works to benefit from this book, but writers wishing to experience non-fiction of the page-turning sort should check them out— twice."
— Journal of Scholarly Publishing