Wildlife as Property Owners: A New Conception of Animal Rights (Paperback)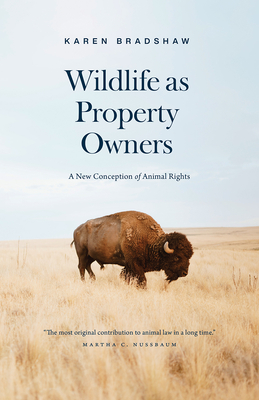 $38.50
Email or call for price.
Description
---
Humankind coexists with every other living thing. People drink the same water, breathe the same air, and share the same land as other animals. Yet, property law reflects a general assumption that only people can own land. The effects of this presumption are disastrous for wildlife and humans alike. The alarm bells ringing about biodiversity loss are growing louder, and the possibility of mass extinction is real. Anthropocentric property is a key driver of biodiversity loss, a silent killer of species worldwide. But as law and sustainability scholar Karen Bradshaw shows, if excluding animals from a legal right to own land is causing their destruction, extending the legal right to own property to wildlife may prove its salvation. Wildlife as Property Owners advocates for folding animals into our existing system of property law, giving them the opportunity to own land just as humans do—to the betterment of all.
About the Author
---
Karen Bradshaw is professor of law and a Williard H. Pedrick Scholar at the Arizona State University Sandra Day O'Connor College of Law. She is also a faculty affiliate scholar with the Classical Liberal Institute at the New York University School of Law and a senior sustainability scientist at the Global Institute of Sustainability at Arizona State University. Bradshaw researches the intersection of property, administrative, natural resources, animal, and environmental law. She is coeditor of Wildfire Policy: Law and Economics Perspectives.
Praise For…
---
A heat haze settles on the bees buzzing among the flowers in Bradshaw's yard. As she walks her property, a bush rattles with motion as a rabbit dashes past, startling a flock of quail. Within the next few months, this parcel of land will become one of the first in Phoenix to be legally owned by wildlife. Bradshaw, a professor of law at Arizona State University, is putting into practice a novel theory explained in her new book, Wildlife as Property Owners. . . . In her book, Bradshaw explains that the best way to transfer ownership to wildlife would be through a trust. With wildlife as the beneficiaries, the land would be managed by a human trustee, who would have a fiduciary duty to act in the best interest of the animals."
— Arizona Republic

"In this fascinating and thought-provoking book, Bradshaw proposes how We The People can use property law to fix human-caused problems so we can arrest the flood of biodiversity loss. This argument is a game-changing expansion in current legal thought. . . . Engrossing and meticulously researched. . . . It represents an essential, and positive, step forward in how we think about and deal with the other species on this planet. Highly recommended."
— Forbes

"In our time of rapidly shrinking animal habitats and threatened biodiversity, we urgently need new ideas. Karen Bradshaw has written a bold, exhilarating book that mines the traditional concepts of property law for new proposals about how humans can contribute to ethically defensible coexistence.  This is the most original contribution to animal law in a long time."
— Martha C. Nussbaum, Law School and Philosophy Department, The University of Chicago

"Bradshaw's Wildlife as Property Owners is a wonderfully fresh look at how humans impact the lives of nonhuman animals (animals). We are now deeply immersed in the Anthropocene, a period I like to call 'The Rage of Inhumanity,' during which we not only rob other animals of their very lives, but also steal their homes when it works for us with little concern for them. When nonhumans are granted the right to own their homes, rather than merely renting them from us, it will be a gamechanger for fostering coexistence in which they and we are partners, rather than adversaries."
— Marc Bekoff, University of Colorado, author of "The Animals' Agenda" and "Canine Confidential"

"The provocative book Wildlife as Property Owners . . . argues that wild animals also have a property right in the 'home' where they live. And home, of course, here has a much broader sense than what we humans are used to thinking. A topical issue in this strange period: due to the pandemic, in many parts of the globe, animals have returned to appropriate areas that human encroachments had stolen from them. Animals that, in Bradshaw's logic, try to return to their legitimate homes. Giving them a property right also provides a legal framework to prevent the mass extinction feared by UN scientists (one million animals and plants at risk). The researcher suggests the creation of legal-patrimonial 'trusts' for wildlife. Giving humans the monopoly of ownership has proved disastrous for all living beings: landowners expropriate natural habitat because of a system that has artificially stripped wildlife of their interests. If the problem is property law—she argues—it can also be the solution. Already today it includes nonhuman owners. Ships and corporations have owned property for decades; why not the bison?"
— Corriere della Sera (translated from Italian)