How to Grow a Human: Adventures in How We Are Made and Who We Are (Hardcover)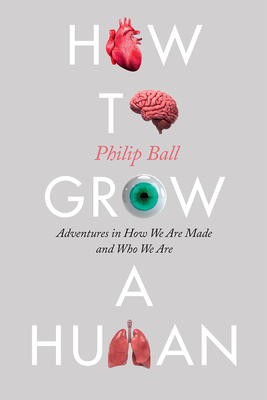 $27.50

Available in our Warehouse: Usually Ships in 3-8 Days
Description
---
Two summers ago, scientists removed a tiny piece of flesh from Philip Ball's arm and turned it into a rudimentary "mini-brain." The skin cells, removed from his body, did not die but were instead transformed into nerve cells that independently arranged themselves into a dense network and communicated with each other, exchanging the raw signals of thought. This was life—but whose? 

In his most mind-bending book yet, Ball makes that disconcerting question the focus of a tour through what scientists can now do in cell biology and tissue culture. He shows how these technologies could lead to tailor-made replacement organs for when ours fail, to new medical advances for repairing damage and assisting conception, and to new ways of "growing a human." For example, it might prove possible to turn skin cells not into neurons but into eggs and sperm, or even to turn oneself into the constituent cells of embryos. Such methods would also create new options for gene editing, with all the attendant moral dilemmas. Ball argues that such advances can therefore never be about "just the science," because they come already surrounded by a host of social narratives, preconceptions, and prejudices. But beyond even that, these developments raise questions about identity and self, birth and death, and force us to ask how mutable the human body really is—and what forms it might take in years to come. 
 
About the Author
---
Philip Ball is a freelance writer and broadcaster, and was an editor at Nature for more than twenty years. He writes regularly in the scientific and popular media and has written many books on the interactions of the sciences, the arts, and wider culture, including H2O: A Biography of Water and The Music Instinct. His book Critical Mass won the 2005 Aventis Prize for Science Books. Ball is also a presenter of Science Stories, the BBC Radio 4 series on the history of science. He trained as a chemist at the University of Oxford and as a physicist at the University of Bristol. He lives in London.
Praise For…
---
"A winding romp through advances in cell biology [that] pushes readers to ponder the boundaries of life. . . . Because of the immense power of emerging biotechnologies, those of us who are intimately involved with these advances must make a concerted effort to equip both policy-makers and the public with the knowledge and tools needed to navigate this evolving landscape. Ambitious and expansive, How to Grow a Human could be one piece of this effort—Ball's look at the state of human-facing cutting-edge bio­science is a thought-provoking read."
— Science

"Should probably come with a warning: you might never look at the life sciences in quite the same way again. . . . Faced with technologies that cheat death and circumvent reproduction, Ball forces us to reassess what being human actually means. . . . This is a deeply engaging crash course. Ball's description of cellular organelles and their functions, in particular, is an impressive feat. And his sense of wonder at biological processes is palpable: passages on the intricacies of cell plasticity had me (with my doctorate in molecular biology) exclaiming, 'That is incredible!'"
— Nature

"Ball skilfully guides us through the last hundred years or so of our love affair of tinkering with the cell. With a writer with as many awards under his belt as Ball, you're in safe hands as he unpacks the science of the cell, while injecting plenty of color and lively anecdotes to keep things interesting. By the end of the book, you'll have learned that mothers giving birth to a male child can end up with cells with Y chromosomes that live on for years, and that rat stem cells can make a mouse a new gall bladder, despite rats not even having a gall bladder."
— Chemistry World

"Ball weaves a compelling story of bodily creation. . . . Highly readable and impeccably informed by research, How to Grow a Human revels in scientific possibility and confronts the social and ethical implications, while intelligently acknowledging what is as yet unknown."
— Lancet