The Last Panda (Paperback)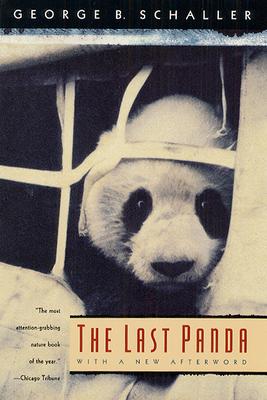 $36.40
This item is not currently available to order.
Description
---
Dependent on a shrinking supply of bamboo, hunted mercilessly for its pelt, and hostage to profiteering schemes once in captivity, the panda is on the brink of extinction. Here, acclaimed naturalist George Schaller uses his great evocative powers, and the insight gained by four and a half years in the forests of the Wolong and Tangjiahe panda reserves, to document the plight of these mysterious creatures and to awaken the human compassion urgently needed to save them.

"No scientist is better at letting the rest of us in on just how the natural world works; no poet sees the world with greater clarity or writes about it with more grace. . . . Anyone who genuinely cares for wildlife cannot help being grateful to Schaller—both for his efforts to understand the panda and for the candor with which he reports what has gone so badly wrong in the struggle to save it from extinction."—Geoffrey C. Ward, New York Times Book Review


"Schaller's book is a unique mix of natural history and the politics of conservation, and it makes for compelling reading. . . . Having been in giant panda country myself, I found some of the descriptions of the animals and habitats breathtaking. Schaller describes the daily routines and personalities of the giant pandas he studied (as well as their fates thereafter) as though they were his blood relatives. . . . Schaller's brilliant presentation of the complexities of conservation makes his book a milestone for the conservation movement."—Devra G. Kleiman, Washington Post Book World


"George Schaller's most soulful work, written in journal style with many asides about a creature who evolved only two to three million years ago (about the same time as humans). . . . Here, conservation biology confronts an evil that grinds against hope and shatters the planet's diversity. Written with hope."—Whole Earth Catalog


"A nicely crafted blend of wildlife observation and political-cultural analysis. . . . The Last Panda is a sad chronicle of our failure, so far, to stem the decline of the animal that may be the most beloved on the planet."—Donald Dale Jackson, Smithsonian
About the Author
---
George B. Schaller is a senior conservationist at the Wildlife Conservation Society and Vice President of Panthera, a foundation devoted to the conservation of wild cats. He is the author of many books, including The Mountain Gorilla and The Last Panda, both published by the University of Chicago Press.