Wordcraft: The Complete Guide to Clear, Powerful Writing (Chicago Guides to Writing, Editing, and Publishing) (Paperback)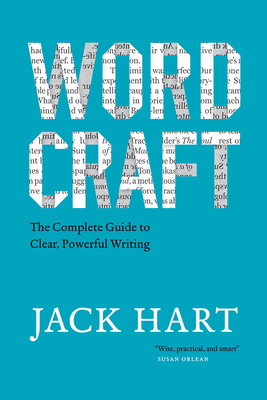 $18.00

Available in our Warehouse: Usually Ships in 3-8 Days
Description
---
Legendary writing coach Jack Hart spent twenty-six years at the Oregonian and has taught students and professionals of all stripes, including bloggers, podcasters, and more than one Pulitzer Prize winner. Good writing, he says, has the same basic attributes regardless of genre or medium. Wordcraft shares Hart's techniques for achieving those attributes in one of the most broadly useful writing books ever written.

Originally published in 2006 as A Writer's Coach, the book has been updated to address the needs of writers well beyond print journalists. Hart breaks the writing process into a series of manageable steps, from idea to polishing. Filled with real-world examples, both good and bad, Wordcraft shows how to bring such characteristics as force, brevity, clarity, rhythm, and color to any kind of writing.

Wordcraft now functions as a set with the second edition of Hart's book Storycraft, on the art of storytelling, also available from Chicago.
About the Author
---
Jack Hart is an author, writing coach, and former managing editor at the Oregonian. He has taught at six universities and served as the acting dean at The University of Oregon School of Journalism and Communication.
 
Praise For…
---
"Wise, practical, and smart, Wordcraft is an exceptional book, offering advice with good humor and great insight. Hart's approach to the writing process will engage you while you're learning, console you when you're stuck, and, best of all, inspire you to be a better writer."
 
— Susan Orlean, Author of The Orchid Thief and The Library Book

"I consider this a foundational book about strong, clear, purposeful writing—along with Zinsser, Strunk and White, and Roy Peter Clark's Writing Tools. The update keeps pace with the times and makes it useful across platforms and experience levels."
— Jacqui Banaszynski, Pulitzer Prize–winning reporter, writer, editor, and teacher

 "A landmark book. Wordcraft gets behind the mystique and shows how the successful writer thinks his or her way through stories."
— Jon Franklin, two-time Pulitzer Prize–winning journalist

"Hart is one of the country's foremost writing coaches. The lessons he teaches are about storytelling, structuring, pacing, tension, and conflict. These lessons are perhaps even more important now in a digital age that sometimes forgets that—without a story to tell—words, videos, graphs, graphics, emails, alerts, and news bulletins are just so much noise."
— Amanda Bennett, Pulitzer Prize–winning author, investigative journalist, and editor