Audubon at Sea: The Coastal and Transatlantic Adventures of John James Audubon (Hardcover)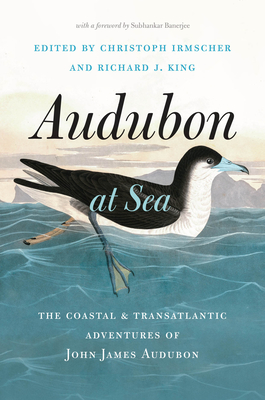 $30.00

Coming Soon - Available for Pre-Order Now
Description
---
This one-of-a-kind, lavishly illustrated anthology celebrates Audubon's connection to the sea through both his words and art.
 
The American naturalist John James Audubon (1785–1851) is widely remembered for his iconic paintings of American birdlife. But as this anthology makes clear, Audubon was also a brilliant writer—and his keen gaze took in far more than creatures of the sky. Culled from his published and unpublished writings, Audubon at Sea explores Audubon's diverse observations of the ocean, the coast, and their human and animal inhabitants. With Audubon expert Christoph Irmscher and scholar of the sea Richard J. King as our guides, we set sail from the humid expanses of the American South to the shores of England and the chilly landscapes of the Canadian North. We learn not only about the diversity of sea life Audubon documented—birds, sharks, fish, and whales—but also about life aboard ship, travel in early America, Audubon's work habits, and the origins of beloved paintings. And as we face an unfathomable loss of seabirds today, Audubon's warnings about the fragility of birdlife in his time are prescient and newly relevant.

Charting the course of Audubon's life and work, from his birth in Haiti to his death in Manhattan, Irmscher and King's wide-ranging introduction and carefully drawn commentary confront the challenges Audubon's legacy poses for us today, including his participation in American slavery and the thousands of birds he killed for his art. Beautifully illustrated, with a foreword by distinguished photographer and conservationist Subhankar Banerjee, and rounded out by hundreds of historical and ornithological notes, Audubon at Sea is the most comprehensively annotated collection of Audubon's work ever published.
About the Author
---
Christoph Irmscher directs the Wells Scholars Program at Indiana University Bloomington, where he is also distinguished professor of English. Among his many books are The Poetics of Natural History and Louis Agassiz: Creator of American Science. For more information, visit http://christophirmscher.com.

Richard J. King is visiting associate professor of maritime literature and history at the Sea Education Association in Woods Hole, Massachusetts. For more than twenty years he has been sailing and teaching aboard tall ships in the Atlantic and Pacific Oceans. He writes and illustrates a column on marine animals for Sea History magazine, edits the "Searchable Sea Literature" website, and was the founding series editor of Seafaring America. For more information, visit http://www.richardjking.info/.
Praise For…
---
"These excellent selections are a wonderful reminder of why Audubon's writing deserves to be more widely read. Audubon at Sea is a delightful, captivating book, one that ranges to different regions and seasons, and features not only birds but fish, marine mammals, and many passages of interest concerning fishing, hunting, and collecting practices. Irmscher and King's expertise is impressive, and their introductions are helpful, informative, and beautifully written. The notes section is also truly remarkable: extremely well-informed, instructive, and detailed. This is a superb read."
— Michael P. Branch, University of Nevada, Reno, author of "On the Trail of the Jackalope"