Democracy in the Time of Coronavirus (Berlin Family Lectures) (Paperback)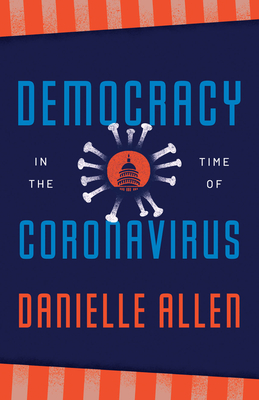 $19.80
This item is not currently available to order.
Description
---
From a leading political thinker, this book is both an invaluable playbook for meeting our current moment and a stirring reflection on the future of democracy itself.
 
The COVID-19 pandemic has demonstrated some of the strengths of our society, including the rapid development of vaccines. But the pandemic has also exposed its glaring weaknesses, such as the failure of our government to develop and quickly implement strategies for tracing and containing outbreaks as well as widespread public distrust of government prompted by often confusing and conflicting choices—to mask, or not to mask. Even worse is that over half a million deaths and the extensive economic devastation could have been avoided if the government had been prepared to undertake comprehensive, contextually-sensitive policies to stop the spread of the disease.
 
In Democracy in the Time of Coronavirus, leading political thinker Danielle Allen untangles the US government's COVID-19 victories and failures to offer a plan for creating a more resilient democratic polity—one that can better respond to both the present pandemic and future crises. Looking to history, Allen also identifies the challenges faced by democracies in other times that required strong government action. In an analysis spanning from ancient Greece to the Reconstruction Amendments and the present day, Allen argues for the relative effectiveness of collaborative federalism over authoritarian compulsion and for the unifying power of a common cause. But for democracy to endure, we—as participatory citizens—must commit to that cause: a just and equal social contract and support for good governance.
About the Author
---
Danielle Allen is the James Bryant Conant University Professor and director of the Edmond and Lily Safra Center for Ethics at Harvard University. She was a recipient of a MacArthur fellowship in 2001 and was elected to the American Academy of Arts and Sciences in 2009. In 2020, she won the Kluge Prize for Achievement in the Study of Humanity, administered by the Library of Congress, that recognizes work in disciplines not covered by the Nobel Prizes. Her many books include the widely acclaimed Our Declaration: A Reading of the Declaration of Independence in Defense of Equality and Cuz: The Life and Times of Michael A.
Praise For…
---
"Political theorist Allen shrewdly analyzes how and why the US response to COVID-19 fell short, and suggests what should be done to better prepare for the next pandemic. . . . This is a trenchant call for reimagining how America functions in a time of crisis."
— Publishers Weekly

"In this stirring manifesto, the renowned political theorist Allen argues that the United States' woeful response to the COVID-19 pandemic must serve as a wake-up call for Americans to rebuild their public health infrastructure and renew their constitutional democracy."
— Foreign Affairs

"In her new book, Democracy in the Time of Coronavirus, Allen argues that federalism, rather than being a problem, offers solutions to what ails democracy today. In particular, she embraces what she calls 'cooperative federalism.' . . .  For Allen, cooperative federalism suggests that the federal government should focus on the big picture: setting overarching goals and identifying promising practices for how best to respond to the pandemic. In contrast, states, counties, cities, and local governments should concentrate on 'the nitty-gritty'—contact tracing, testing, treating the ill, and supporting those who are isolating."
— Nation

"It's not the first political book on the pandemic, but it's the first I've taken seriously so far. . . . It takes a truly original thinker to excite the intellectual public with fresh insights on the pandemic. Allen is the political thinker the modern intelligentsia has patiently held their breath to learn from. She is among the foremost theorists on democracy so an opportunity to uncover her thoughts on how the pandemic exposed cracks in modern democratic governance is thrilling. Of course, her purpose is not to tear down democracy, but rather to discover how to repair it for the future."
— Democracy Paradox

"[Allen] argues that democracies can learn from health, economic, and political crises how to reestablish social contracts and build pandemic resilience. . . This book concisely identifies the many and multivalent concerns before COVID vaccines became available—a critical period to document—and it also raises a number of provocative arguments that might form the basis for a lively reader discussion. Finally, other scholars and reformers should further consider Allen's views on social rights and integrative policy judgment."
— Choice

"[Allen's] book—published during her campaign for Massachusetts governor—has an aspirational quality; it is rich with discussion of the purposes of our federal constitutional democracy, the social contract, and political legitimacy. She focuses exclusively on COVID-19 but uses the crisis to illustrate the larger problems of U.S. governance."
— Boston Review

"Allen's public life has been spent arguing for democracy, living it, teaching it. She is an exemplar of a democratic citizen, putting forth her ideas in public space for open debate and thereby encouraging us all to join her in communal democratic life."
— Jonathan Lear, Committee on Social Thought, University of Chicago

"Allen's clear understanding of the social and political challenges to an advanced, industrial democracy that lacks foundational trust make this book an important tool in approaching the ongoing COVID-19 pandemic. It is an excellent broad-brush approach to the need for restoring our social contract."
— Daniel P. Aldrich, author of "Building Resilience: Social Capital in Post-Disaster Recovery"

"Scrutinizing our founding document, Allen sees it as a clarion call for equality."
— New York Times Book Review, Editors' Choice, on "Our Declaration"

"Remarkable. . . . A tour de force."
— New York Review of Books, on "Our Declaration"

"A primer on all that we have been missing. . . . Invaluable."
— Washington Post, on "Our Declaration"

"Political philosopher Danielle S. Allen, Conant University Professor and, for a time, a candidate for the Democratic nomination for governor of Massachusetts, has examined the pandemic in light of America's social and political arrangements. In Democracy in the Time of Coronavirus, Allen . . . finds deep reasons for concern."
— Harvard Magazine