Inventing the Alphabet: The Origins of Letters from Antiquity to the Present (Hardcover)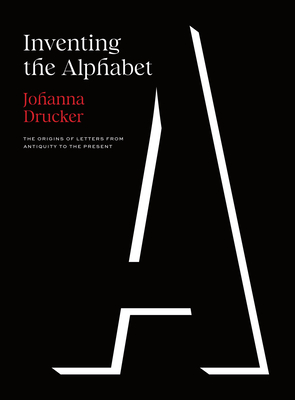 Description
---
The first comprehensive intellectual history of alphabet studies.

Inventing the Alphabet provides the first account of two-and-a-half millennia of scholarship on the alphabet. Drawing on decades of research, Johanna Drucker dives into sometimes obscure and esoteric references, dispelling myths and identifying a pantheon of little-known scholars who contributed to our modern understandings of the alphabet, one of the most important inventions in human history.

Beginning with Biblical tales and accounts from antiquity, Drucker traces the transmission of ancient Greek thinking about the alphabet's origin and debates about how Moses learned to read. The book moves through the centuries, finishing with contemporary concepts of the letters in alpha-numeric code used for global communication systems. Along the way, we learn about magical and angelic alphabets, antique inscriptions on coins and artifacts, and the comparative tables of scripts that continue through the development of modern fields of archaeology and paleography.

This is the first book to chronicle the story of the intellectual history through which the alphabet has been "invented" as an object of scholarship.
 
About the Author
---
Johanna Drucker is the Breslauer Professor of Bibliographical Studies and a distinguished professor in the Department of Information Studies at the University of California, Los Angeles. She has been the recipient of Fulbright, Mellon, and Getty Fellowships and in 2019 was the inaugural Distinguished Senior Humanities Fellow at the Beinecke Library, Yale University. Her artist books are included in museums and libraries in North America and Europe, and her creative work was the subject of a traveling retrospective, Druckworks 1972-2012: 40 Years of Books and Projects. Her publications include Visualizing Interpretation, Iliazd: Meta-biography of a Modernist, and The Digital Humanities Coursebook.
Praise For…
---
"[Drucker] provides a rich, detailed account of how western thinkers have understood the origins and development of the alphabet. . . . Millions learn the alphabet in childhood, and Drucker's study opens up a fascinating realm of ideas and scholarship into its origins and meaning."
— BBC History Magazine

"With Inventing the Alphabet, Drucker—scholar, interpreter, and designer of printed words and letters—sheds light on that which has brought humankind out of darkness."
— Steven Heller, author, design critic, and cochair of the SVA MFA Design Department

"Drucker takes us on a journey through centuries of intellectual history, from the musings of the first historians to the scientific methods of modern archaeologists and linguists. At the heart of it all is the alphabet: an invention that is both ubiquitously banal and world-changingly innovative."
— History Today