None of Your Damn Business: Privacy in the United States from the Gilded Age to the Digital Age (Paperback)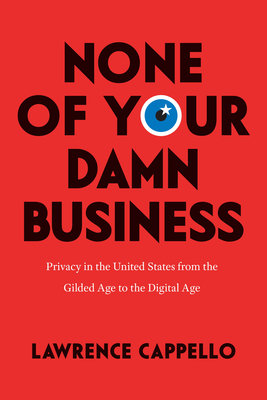 $20.00

Available in our Warehouse: Usually Ships in 3-8 Days
Description
---
Capello investigates why we've been so blithe about giving up our privacy and all the opportunities we've had along the way to rein it in.

Every day, Americans surrender their private information to entities claiming to have their best interests in mind. This trade-off has long been taken for granted, but the extent of its nefariousness has recently become much clearer. As None of Your Damn Business reveals, the problem is not so much that data will be used in ways we don't want, but rather how willing we have been to have our information used, abused, and sold right back to us. In this startling book, Lawrence Cappello targets moments from the past 130 years of US history when privacy was central to battles over journalistic freedom, national security, surveillance, big data, and reproductive rights. As he makes dismayingly clear, Americans have had numerous opportunities to protect the public good while simultaneously safeguarding our information, and we've squandered them every time. None of Your Damn Business is a rich and provocative survey of an alarming topic that grows only more relevant with each fresh outrage of trust betrayed.
About the Author
---
Lawrence Cappello is assistant professor of US constitutional history at the University of Alabama. He received his PhD from the City University of New York. 
Praise For…
---
"Cappello's puckish sensibilities and engaging style dovetail wittily with his well-chosen and thoughtful examples, resulting in an academic text that any reader can appreciate. This book is a must-read for legislators, policymakers, and anyone curious about the ways their privacy could potentially be compromised by the government, the media, or data brokers."
— Publishers Weekly

"A thorough account of privacy struggles that draws on deep research to reveal that the privacy dilemma dates back more than a century and has roiled American life through two world wars, the New Deal, the Cold War, and the post 9/11 era. . . . None of Your Damn Business provides excellent background information for citizens concerned with the erosion of privacy rights, as well as for government officials and legal professionals positioned to act upon privacy laws that protect citizens while providing necessary oversight."
— Foreword Reviews

"Cappello's treatment manages the trick of being both thorough and lively."
— American Historical Review

 "'What is it we fear we're losing?' Cappello asks in his brilliant study of privacy in America. Is there any timelier question? Thoroughly researched and deftly told, None of Your Damn Business is a history of privacy written for and about Wall Street and Main Street, government and the courts, intelligence operatives and digital entrepreneurs, current and future citizens. It deserves our full attention."
— David Nasaw

"Tracing a century of debates on topics from national security to reproductive rights, None of Your Damn Business offers a lively, instructive account of Americans' ambivalent (and often muddled) thinking about privacy."
— Sarah Igo

"Privacy, or the intimate politics of power, is becoming more important with each day. If there is no privacy, there can be no resistance and thus no social progress. In this fine book, Cappello makes a lucid case for why we need what Justice Louis Brandeis called 'the right to be left alone.'"
— Christian Parenti

"Calmly, clearly, and sensibly, Mr. Cappello shows us how privacy as a right—and as a legal concept—gradually evolved as America itself evolved from small, largely rural beginnings into today's incredibly intricate, sophisticated mega-state driven by an equally intricate, sophisticated mega-economy."
— Aram Bakshian