Ontario's Ghost Town Heritage (Paperback)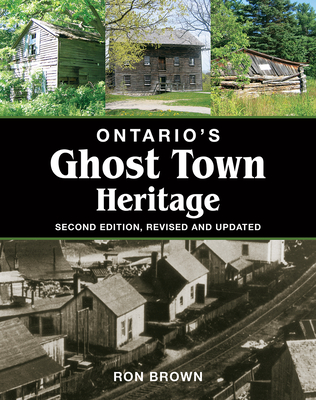 $24.95
This item is not currently available to order.
Description
---
Despite the urban sprawl, industrialization and endless highway construction, Ontario possesses many hidden corners and lonely roads where the remains of earlier settlements, often constructed with immense effort against impossible odds, now lie forgotten. Some are no more than a few decaying foundations and collapsing houses, while others are littered with the remains of the industry and manufacturing that once thrived there.
There is a renewed interest in exploring our own backyard, and Ontario's Ghost Town Heritage is the perfect guide to these once-booming towns and villages. While some still maintain small resident populations, others exist only as abandoned buildings and ruins. All have in common that they are ghosts of their former greatness, and their images evoke the lost legacy of Ontario's past.
This fascinating book by Ontario historian Ron Brown explores over 80 accessible ghost towns in all parts of Ontario. Detailed driving directions invite you to experience the province's heritage for yourself.
This revised edition contains many new sites to visit and has been carefully updated with the latest information and driving directions.
About the Author
---
Ron Brown, an authority on rural Ontario, has written over a dozen books on Ontario's ghost towns and roadside attractions. He is a frequent contributor to CBC Radio, and his travel articles have appeared in numerous North American newspapers and magazines. He lives in Toronto, Ontario.