Community Psychology: In Pursuit of Liberation and Well-Being (Paperback)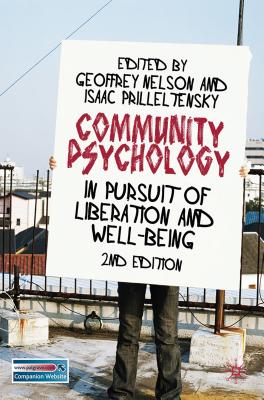 $85.79
This item is not currently available to order.
Description
---
In its broadest sense, community psychology studies the individual's relationships to their community and to wider society. Sitting at the junction between social and clinical psychology, and heavily influenced by activist traditions in political science, sociology and social work, this powerfully written book delivers a comprehensive introduction to the definition and aims of this justice-orientated field of psychology. Editors Nelson and Prilleltensky cover a broad range of the critical perspectives and fundamental values that define the aims of community psychology, highlighting the psychosocial praxis that these have produced and the key political and societal ills that they aim to prevent. Written with a global perspective, this book exhibits internationally authored chapters as well as in-text commentators and cross-cultural case studies. This book is a key guide to understanding how community psychologists function to resolve structural injustice and bring about transformative change to the socio-economic issues of our time such as homelessness, mental health, racism, discrimination and marginalisation.
This text can be used as an essential guide for undergraduate students beginning courses in Community Psychology as it presents a thorough history of the field, a rigorous breakdown of the various socio-economic issues at the heart of community psychology's focus, as well as a critical analysis of methods of intervention and research.
About the Author
---
GEOFFREY NELSON is Professor of Psychology and faculty member in the Community Psychology programme at Wilfrid Laurier University, Canada. He served as the senior editor of the Canadian Journal of Community Mental Health and is the author of five other books related to community psychology. ISAAC PRILLELTENSKY is Dean of the School of Education at the University of Miami, USA. He previously directed the Ph.D. programme in Community Research and Action at Vanderbilt University and has also taught community psychology in Australia and Canada. He is the author or co-editor of six other books related to community psychology.
Praise For…
---
"This definitive introduction should be a key text for any course in the field of community psychology, as well as relevant to those interested in action research, community development and social interventions for psychological well-being. It balances theoretical insights with practical guidelines which will appeal to students and tutors alike." —Dr Katherine Johnson, Principal Lecturer in Psychology, University of Brighton, UK