I Died a Million Times: Gangster Noir in Midcentury America (Paperback)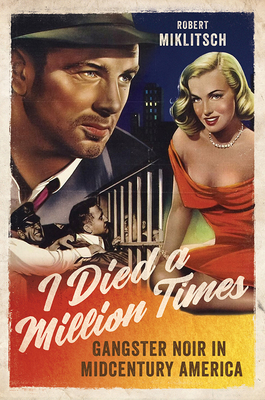 $37.73
This item is not currently available to order.
Description
---
In the 1950s, the gangster movie and film noir crisscrossed to create gangster noir. Robert Miklitsch takes readers into this fascinating subgenre of films focused on crime syndicates, crooked cops, and capers.
 
With the Senate's organized crime hearings and the brighter-than-bright myth of the American Dream as a backdrop, Miklitsch examines the style and history, and the production and cultural politics, of classic pictures from The Big Heat and The Asphalt Jungle to lesser-known gems like 711 Ocean Drive and post-Fifties movies like Ocean's Eleven. Miklitsch pays particular attention to trademark leitmotifs including the individual versus the collective, the family as a locus of dissension and rapport, the real-world roots of the heist picture, and the syndicate as an octopus with its tentacles deep into law enforcement, corporate America, and government. If the memes of gangster noir remain prototypically dark, the look of the films becomes lighter and flatter, reflecting the influence of television and the realization that, under the cover of respectability, crime had moved from the underworld into the mainstream of contemporary everyday life.
About the Author
---
Robert Miklitsch is a professor in the department of English language and literature at Ohio University. He is the editor of Kiss the Blood Off My Hands: On Classic Film Noir and the author of The Red and the Black: American Film Noir in the 1950s.
Praise For…
---
"This is a readable, engaging book. . . . Recommended." --Choice

"Miklitsch's book is gripping. . . . So the many facets of the individual versus the system or the one system against another one (in that case a mob/gangster syndicate) get a lot of attention." --PopCultureShelf

"Alert to the aesthetic, political, industrial, and historical provocations and subversions of 'gangster noir,' I Died a Million Times provides an excellent overview and analysis of this subgenre and reminds us of film noir's rich hybridity. Full of truly superb readings of well-known and less familiar classic noir films, Robert Miklitsch's book, written with striking verve, will engage, delight, and inform scholars and movie fans."--Julie Grossman, coauthor of Ida Lupino, Director: Her Art and Resilience in Times of Transition

"I Died a Million Times is an enjoyable and informative read for film noir aficionados and casual movie fans alike, offering a cogent analysis of '50s gangster noir as a cinema of social commentary." --Arts Fuse

"Scholars of cinematic history and aficionados of gangster folklore will be riveted." --Library Journal