Indiana Across the Land (Hardcover)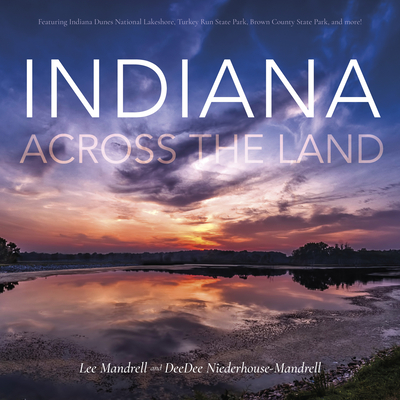 $25.00
This item is not currently available to order.
Description
---
The captivating landscapes of America's heartland offer an inviting escape from the everyday in Indiana Across the Land. Although a road trip from the shores of Lake Michigan to the Ohio River could be accomplished in only six hours, photographers Lee Mandrell and DeeDee Niederhouse-Mandrell take readers the long way around the Hoosier state, embarking on a breathtaking journey across the seasons, down windswept dunes, through old-growth forests, over burbling creeks and yawning chasms, past icy lighthouses and worn-down barns, and into the southern cypress swamps. More than 140 photographs capture the beauty of the Indiana Dunes National Lake Shore, Ouabache State Park, Turkey Run State Park, Squire Boone Caverns, and many other landmarks and natural wonders, both well-known and rarely glimpsed.
About the Author
---
For Lee Mandrell, photography started out as a hobby that quickly ignited into a fiery passion and then into a lifelong career. He started out at age fourteen with a secondhand Minolta Hi-Matic E rangefinder. Mandrell worked as a custom darkroom technician in a professional lab for years and was eventually promoted to production manager. An early adopter of both digital technology and Photoshop, he is still actively involved in all current photography techniques and practices. He is author of Indianapolis: The Circle City and coauthor of The Great Smoky Mountains: A Visual Journey. DeeDee Niederhouse-Mandrell's interest in the art of photography began over twenty-five years ago. What started out as a hobby eventually turned into a paying photography job--she is now the principal photographer for the Ray Skillman Corporation. After several years, Niederhouse-Mandrell became the corporation's creative photography manager for their upper-end magazine advertisements. She is coauthor of The Great Smoky Mountains: A Visual Journey.