Orangutans: Behavior, Ecology, and Conservation (Hardcover)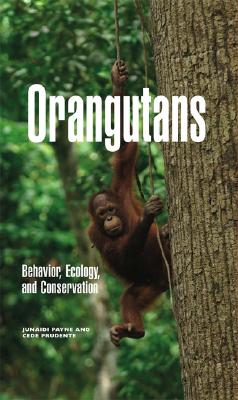 $38.45
This item is not currently available to order.
Description
---
With lively text and more than 150 striking color photographs, this look at orangutan life examines topics ranging from habitat and behavior to the complex intricacies of orangutan society.
This abundantly illustrated look at orangutan life tells the story of one of the most fascinating members of the great ape family. In Orangutans, conservation biologist Junaidi Payne presents an informative and compelling description of the lives of orangutans, from their habitat and behavior to the complex intricacies of orangutan society, with discussions of such topics as the differences between wild and captive creatures and characteristics of age and sex. He provides information on orangutan conservation and rehabilitation as well, discussing threats to orangutan welfare and strategies for safeguarding orangutans in the future. Extraordinary color photographs by award-winning photographer Cede Prudente reveal little-seen aspects of orangutan life in the rainforest and showcase the breathtaking landscapes of Borneo and Sumatra. Orangutans also includes a map of orangutan distribution and information on where to see orangutans in the wild. Orangutan tours attract thousands of visitors each year. This stunning book offers a souvenir or a preview. Animal lovers, natural history students, fans of wildlife photography, and those interested in ecology and conservation will also find a place for Orangutans on their bookshelves or coffee tables. Junaidi Payne, a conservation biologist with World Wildlife Fund for Nature-Malaysia, is the author of Wild Malaysia and This is Borneo. Cede Prudente is a professional conservationist and photographer. His photograph of a swinging orangutan won the Best Still Photography Award at the 2007 Wildlife Asian Film Festival.
About the Author
---
Fred Newman, a founder of the Castillo Theatre and its Artistic Director, is one ofAmerica's foremost directors of the work of Heiner Mu]ller. He has directed The Mission(1998); Hamletmachine (1996, 2002); The Task (1992); Explosion of aMemory (Description of a Picture) (1992); An Obituary -- Heiner Mu] ller: AMan without a Behind (1997), an original theatre piece featuring writings by Mu]ller;and the North American premiere of Germania 3 Ghosts at Dead Man (2001). Hehas written more than 30 plays and musicals, and an anthology of his work, Still onthe Corner and Other Postmodern Political Plays by Fred Newman, was publishedin 1998 (Community Literacy Research Project). He is a partner in Five PointsProductions, and recently directed his first feature-length film, Nothing Really Happens(2002), based on his 1991 play, The Store: One Block East of Jerome.