The Greenest Nation?: A New History of German Environmentalism (History for a Sustainable Future) (Paperback)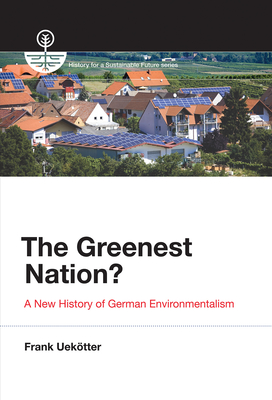 $28.00
This item is not currently available to order.
Description
---
An account of German environmentalism that shows the influence of the past on today's environmental decisions.
Germany enjoys an enviably green reputation. Environmentalists in other countries applaud its strict environmental laws, its world-class green technology firms, its phase-out of nuclear power, and its influential Green Party. Germans are proud of these achievements, and environmentalism has become part of the German national identity. In The Greenest Nation? Frank Uekötter offers an overview of the evolution of German environmentalism since the late nineteenth century. He discusses, among other things, early efforts at nature protection and urban sanitation, the Nazi experience, and civic mobilization in the postwar years. He shows that much of Germany's green reputation rests on accomplishments of the 1980s, and emphasizes the mutually supportive roles of environmental nongovernmental organizations, corporations, and the state.
Uekötter looks at environmentalism in terms of civic activism, government policy, and culture and life, eschewing the usual focus on politics, prophets, and NGOs. He also views German environmentalism in an international context, tracing transnational networks of environmental issues and actions and discussing German achievements in relation to global trends. Bringing his discussion up to the present, he shows the influence of the past on today's environmental decisions. As environmentalism is wrestling with the challenges of the twenty-first century, Germany could provide a laboratory for the rest of the world.
About the Author
---
Frank Uekötter is Reader in Environmental Humanities at the University of Birmingham (UK). He is the author of The Green and the Brown: A History of Conservation in Nazi Germany, The Age of Smoke: Environmental Policy in Germany and the United States, 1880–1970, and other books.
Praise For…
---
The publication is recommended to all human ecologists and environmental professionals looking at environmentalism in terms of civic activism, government policy, culture and lifestyle. It is a companion, providing background reading to students in human ecology and environmental science. It is a source of inspiration for environmental decision makers.—
International Journal of Environment and Pollution
—
...the book on the whole is an extremely welcome addition to the field and will be of particular value to undergraduate courses on environmental history. It also will be eagerly read by German historians struggling to integrate the country's environmental movement into larger national narratives. Stylistically, the book was a pleasure to read, fullof revealing and well-narrated anecdotes.
—
German History
—