The Paradox of Scale: How NGOs Build, Maintain, and Lose Authority in Environmental Governance (Paperback)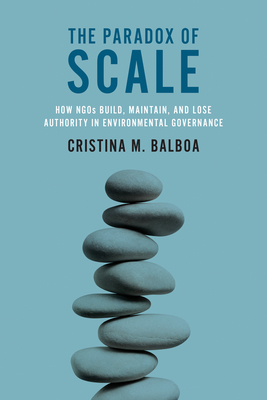 $44.80
This item is not currently available to order.
Description
---
An examination of why NGOs often experience difficulty creating lasting change, with case studies of transnational conservation organizations in Southeast Asia and the Pacific.
Why do nongovernmental organizations face difficulty creating lasting change? How can they be more effective? In this book, Cristina Balboa examines NGO authority, capacity, and accountability to propose that a "paradox of scale" is a primary barrier to NGO effectiveness. This paradox—when what gives an NGO authority on one scale also weakens its authority on another scale—helps explain how NGOs can be seen as an authority on particular causes on a global scale, but then fail to effect change at the local level. Drawing on case studies of transnational conservation organizations in Southeast Asia and the Pacific, The Paradox of Scale explores how NGOs build, maintain, and lose authority over time.
Balboa sets a new research agenda for the study of governance, offering practical concepts and analysis to help NGO practitioners. She introduces the concept of authority as a form of legitimated power, explaining why it is necessary for NGOs to build authority at multiple scales when they create, implement, or enforce rules. Examining the experiences of Conservation International in Papua New Guinea, International Marinelife Alliance in the Philippines, and the Community Conservation Network in Palau, Balboa explains how a paradox of scale can develop even for those NGOs that seem powerful and effective. Interdisciplinary in its approach, The Paradox of Scale offers guidance for interpreting the actions and pressures accompanying work with NGOs, showing why even the most authoritative NGOs often struggle to make a lasting impact.
About the Author
---
Cristina M. Balboa is Associate Professor at the Marxe School of Public and International Affairs, Baruch College, City University of New York.
Praise For…
---
As it is, this book is a wonderful addition to the literature on environmental NGOs. It asks a question central to the field and answers it clearly and with substantial evidence. As I indicated, beyond scholars in various social science disciplines, her book will be of great interest to NGO practitioners, too. The case studies are also teacherfriendly: educators can easily use one or two of them as a reading assignment to help students work through abstract theoretical concepts like authority, legitimacy, or accountability.—Voluntas—