Oratory and Rhetoric in the Nineteenth-Century South: A Rhetoric of Defense (Paperback)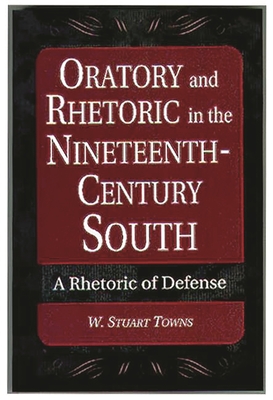 $63.00

Available in our Warehouse: Usually Ships in 3-8 Days
Description
---
The only modern collection of speeches by southerners on the themes that have shaped the history and culture of the region, this anthology, which spans eighty tumultuous years of southern history, reflects the strategies of southern orators as they attempted to defend the indefensible, as well as those few who advocated a more compassionate South. Southern leaders were judged largely by their oratorical ability and their skills in defending the southern way of life. Accordingly, they placed much emphasis on developing consummate rhetorical skills. Thus, one can read the history of the region in the speeches of its politicians, ministers, and other public figures.
Beginning in 1820 with the debates over the admission of Missouri to the Union, many southerners took a defensive posture against those forces from outside the region which they saw as threats to their culture. While the rhetoric of most southern leaders was clearly defensive, one must remember that they were dealing with the difficult issues of slavery; the relationship of federal and state government; their vision of the ideal society; the coming civil war and its aftermath; and living in a defeated, desolate, war-torn region. As demagogic, defensive, and archaic as they may seem today, these speakers developed and expanded patterns of thought and rhetorical strategy that echoed throughout the region. The collective memory that they created would shape their contemporaries and affect the lives of generations to follow.
About the Author
---
W. STUART TOWNS is the Department Chair of Communication Arts at the University of West Florida, where he has taught since 1968. From 1975 through 1995 he was a member of the Consulting Faculty at the U.S. Army Command and General Staff College. He is the author of numerous articles on Southern oratory and communications within the military.