Spanish Texas, 1519–1821: Revised Edition (Paperback)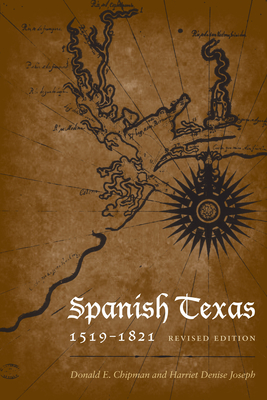 $32.95

Available in our Warehouse: Usually Ships in 3-8 Days
Description
---
Winner, Kate Broocks Bates Award, Texas State Historical Association
Presidio La Bahía Award, Sons of the Republic of Texas
A Choice Magazine Outstanding Academic Book
Modern Texas, like Mexico, traces its beginning to sixteenth-century encounters between Europeans and Indians who contested control over a vast land. Unlike Mexico, however, Texas eventually received the stamp of Anglo-American culture, so that Spanish contributions to present-day Texas tend to be obscured or even unknown. The first edition of Spanish Texas, 1519–1821 (1992) sought to emphasize the significance of the Spanish period in Texas history. Beginning with information on the land and its inhabitants before the arrival of Europeans, the original volume covered major people and events from early exploration to the end of the colonial era.
This new edition of Spanish Texas has been extensively revised and expanded to include a wealth of discoveries about Texas history since 1990. The opening chapter on Texas Indians reveals their high degree of independence from European influence and extended control over their own lives. Other chapters incorporate new information on La Salle's Garcitas Creek colony and French influences in Texas, the destruction of the San Sabá mission and the Spanish punitive expedition to the Red River in the late 1750s, and eighteenth-century Bourbon reforms in the Americas. Drawing on their own and others' research, the authors also provide more inclusive coverage of the role of women of various ethnicities in Spanish Texas and of the legal rights of women on the Texas frontier, demonstrating that whether European or Indian, elite or commoner, slave owner or slave, women enjoyed legal protections not heretofore fully appreciated.
About the Author
---
Donald E. Chipman is Professor Emeritus of History at the University of North Texas. In 2003 King Juan Carlos I of Spain appointed him as a Knight of the Royal Order of Isabel the Catholic, the highest honor that can be accorded a non-Spaniard.
Harriett Denise Joseph is Professor of History at the University of Texas at Brownsville/Texas Southmost College. Both she and Donald Chipman have spent decades researching, writing, and teaching Texas history. This volume is their third collaborative effort, along with the award-winning Notable Men and Women of Spanish Texas and Explorers and Settlers of Spanish Texas.