Dwight Yoakam: A Thousand Miles from Nowhere (American Music Series) (Paperback)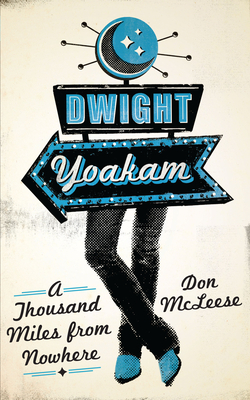 Description
---
From his formative years playing pure, hardcore honky-tonk for mid-'80s Los Angeles punk rockers through his subsequent surge to the top of the country charts, Dwight Yoakam has enjoyed a singular career. An electrifying live performer, superb writer, and virtuosic vocalist, he has successfully bridged two musical worlds that usually have little use for each other—commercial country and its alternative/Americana/roots-rocking counterpart. Defying the label "too country for rock, too rock for country," Yoakam has triumphed while many of his peers have had to settle for cult acceptance. Four decades into his career, he has sold more than 25 million records and continues to tour regularly, with an extremely loyal fan base.
In Dwight Yoakam, award-winning music journalist Don McLeese offers the first musical biography of this acclaimed artist. Tracing the seemingly disparate influences in Yoakam's music, McLeese shows how he has combined rock and roll, rockabilly, country, blues, and gospel into a seamless whole. In particular, McLeese explores the essential issue of "authenticity" and how it applies to Yoakam, as well as to country music and popular culture in general. Drawing on wide-ranging interviews with Yoakam and his management, while also benefitting from the perspectives of others closely associated with his musical success (including producer-guitarist Pete Anderson, Yoakam's partner throughout his most popular and creative decades), Dwight Yoakam pays tribute to the musician who has established himself as a visionary beyond time, an artist who could title an album Tomorrow's Sounds Today and deliver it.
About the Author
---
Don McLeese was formerly the pop music critic for the Chicago Sun-Times and the Austin American-Statesman, as well as country columnist and frequent contributor to Rolling Stone and a senior editor for No Depression. He has chronicled Dwight Yoakam in reviews, features, and interviews from the beginning of the artist's recording career through the present day. He currently teaches journalism at the University of Iowa. His most recent book is The New York Times Reader: Arts and Culture.
Praise For…
---
This lovingly crafted and compulsively readable biography is essential for fans of Yoakam and lovers of good music writing.
— Library Journal