Good Formulas: Empirical Evidence in Mid-Imperial Chinese Medical Texts (Hardcover)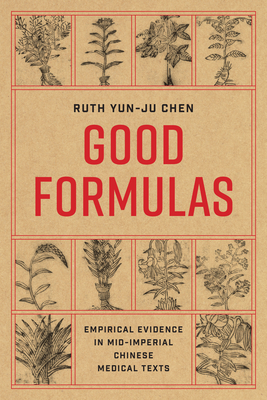 $141.75

Available in our Warehouse: Usually Ships in 3-8 Days
Description
---
Why and how did the strategy of documenting medical practices through personal experience rise to prominence in China? This question is at the heart of Good Formulas, the first book-length study of the use of empirical evidence in Chinese medicine between the ninth and thirteenth centuries. The rise of this new approach to substantiating knowledge, which had appeared only sporadically in earlier medical literature, provides a window into transformations in the construction of textual authority in mid-imperial China.
Focusing on medical genres and working extensively with notebooks (biji), Ruth Yun-Ju Chen shows that employing empirical evidence became prominent in conjunction with a publishing boom that enabled wider availability of medical texts and treatises. To convince a more socioculturally diverse readership to believe their claims and to win intertextual debates with contemporaneous authors, many Song medical authors turned to empirical methodology. Revealing a correlation between publishing cultures and changes in persuasion strategies in medical genres, Good Formulas offers new insights into the histories of medicine, knowledge production, and publishing in China. It also provides rich examples for scholars interested in the development of empirical evidence in the premodern world.
About the Author
---
Ruth Yun-Ju Chen is assistant research fellow at the Institute of History and Philology, Academia Sinica.