Dieter Roth: Diaries (Hardcover)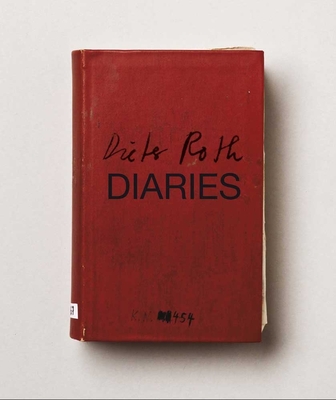 $52.00
This item is not currently available to order.
Description
---
Dieter Roth (1930–1998) was an artist of astonishing breadth and diversity, producing graphics, drawings, paintings, sculptures, assemblages, and installation works involving sound recordings and video. He was also a composer, musician, poet, and writer. Roth was particularly noted for his influential artist's books, including Literaturwurst (1961–74), a series of books made using traditional sausage recipes but replacing the sausage meat with pages torn from other publications.
Roth kept diaries and notebooks throughout his life, using and reusing them in his art and writing. The idea of keeping a diary—finding a way to record the passing of time and document his life—is a fundamental theme of his artwork. Illustrations of pages from Roth's diaries and copybooks of his major works, including A Diary (1982), Flat Waste (1975), Solo Scenes (1997–98), and Bar II (1983–97), accompany art historical assessments by contemporary scholars and contributions from his peer Jan Vos and his son Björn Roth.

Distributed for The Fruitmarket Gallery


Exhibition Schedule:
The Fruitmarket Gallery, Edinburgh(08/02/12–10/14/12)
About the Author
---
Fiona Bradley is the director of The Fruitmarket Gallery, Edinburgh.