Bach's Major Vocal Works: Music, Drama, Liturgy (Hardcover)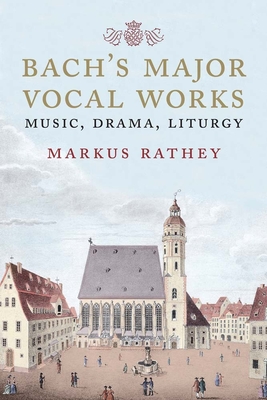 $49.00
This item is not currently available to order.
Description
---
Every year, Johann Sebastian Bach's major vocal works are performed to mark liturgical milestones in the Christian calendar. Written by a renowned Bach scholar, this concise and accessible book provides an introduction to the music and cultural contexts of the composer's most beloved masterpieces, including the Magnificat, Christmas Oratorio, and St. John Passion.

In addition to providing historical information, each chapter highlights significant aspects—such as the theology of love—of a particular piece. This penetrating volume is the first to treat the vocal works as a whole, showing how the compositions were embedded in their original performative context within the liturgy as well as discussing Bach's musical style, from the detailed level of individual movements to the overarching aspects of each work. Published in the approach to Easter when many of these vocal works are performed, this outstanding volume will appeal to casual concertgoers and scholars alike.
About the Author
---
Markus Rathey is associate professor of music history at the Yale School of Music, the Yale Institute of Sacred Music, the Yale Department of Music, and the Yale Divinity School. He lives in Hamden, CT.
Praise For…
---
"An excellent general perusal of Bach's major choral works, this book is recommended for classical music lovers, Bach fans, and those who are interested in Christian music and theology."—Library Journal

"The overwhelming strength and the unexpected delight of Markus Rathey's book is the way his reflections on some of the West's greatest musical works take on a devotional and evangelical majesty and power, propelling the reader into new worlds of spiritual understanding and insight."—Rev. Harvey Richardson, Methodist Recorder

"These are the program notes you have always wanted . . . Rathey helps the amateur listener appreciate details he might otherwise miss. Those who seek to take the next step in their en­joyment of Bach's genius would do well to turn to him."—First Things

"Rathey securely and authoritatively succeeds in making these vocal works accessible on many levels."—Choice

"This delightful book written by the Yale musicologist Markus Rathey offers a background account of Bach's major vocal works in chapters… If you too are a Bach fan then I cannot recommend this book strongly enough."—Robin Gill, Theology

"His writing style is beautifully clear, and careful to elaborate more obscure points —although without ever becoming condescending or over simplistic… excellent, in my opinion."—Cl​assical Music

"Sensible, and well grounded in eighteenth-century Lutheran theology and devotional practice. As a result, his book makes an excellent starting point for learning not just how Bach's music is put together but what it might have meant to eighteenth-century audiences."—Derek Stauff, Catholic Historical Review

"An accessible guide . . . [Bach's Major Vocal Works] can open a new depth of understanding and appreciation for Bach's choral music."—Plough Quarterly

'Markus Rathey provides concise and very readable introductions to six of Bach's greatest works. Apart form the sheer power of the music, the meditation that Bach intended them to inspire is greatly assisted and deepened by an understanding of the rich traditions of theology and liturgy from which they grew. Bach lovers, people approaching Bach for the first time, and particularly people outside these traditions will find this book an enriching companion.' - David Ledbetter, author of Unaccompanied Bach: Performing the Solo Works

'Rathey achieves something that is rare in writing about Bach: a book that is fully informed by scholarship but also one that is relevant and understandable for virtually any interested reader, at any level of musical education. Rathey's particular contribution is to explain what initially appear to be arcane expressions in the texts of Bach's major sacred works, bringing out the significance of the many references to love. This helps us to experience Bach's music as far more sensual and emotional than many may hitherto have believed.' - John Butt, author of Bach's Dialogue with Modernity: Perspectives on the Passions