Under the Big Black Sun: A Personal History of L.A. Punk (Hardcover)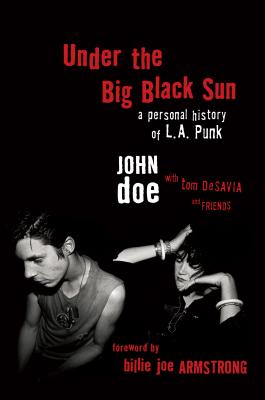 $26.99
This item is not currently available to order.
Description
---
Under the Big Black Sun explores the nascent Los Angeles punk rock movement and its evolution to hardcore punk as it's never been told before. Authors John Doe and Tom DeSavia have woven together an enthralling story of the legendary West Coast scene from 1977-1982 by enlisting the voices of people who were there. The book shares chapter-length tales from the authors along with personal essays from famous (and infamous) players in the scene. Additional authors include: Exene Cervenka (X), Henry Rollins (Black Flag), Mike Watt (The Minutemen), Jane Wiedlin and Charlotte Caffey (Go-Go's), Dave Alvin (The Blasters), Chris D. (The Flesh Eaters), Robert Lopez (The Zeros, El Vez), Jack Grisham (T.S.O.L.), Teresa Covarrubias (The Brat), as well as scenesters and journalists Pleasant Gehman, Kristine McKenna, and Chris Morris. Through interstitial commentary, John Doe "narrates" this journey through the land of film noir sunshine, Hollywood back alleys, and suburban sprawl, the place where he met his artistic counterparts Exene, DJ Bonebrake, and Billy Zoom and formed X, the band that became synonymous with, and in many ways defined, L.A. punk.

Focusing on punk's evolutionary years, Under the Big Black Sun shares stories of friendship and love, ambition and feuds, grandiose dreams and cultural rage, all combined with the tattered, glossy sheen of pop culture weirdness that epitomized the operations of Hollywood's underbelly. Readers will travel to the clubs that defined the scene, as well as to the street corners, empty lots, apartment complexes, and squats that served as de facto salons for the musicians, artists, and fringe players that hashed out what would become punk rock in Los Angeles.

L.A. punk was born from rock 'n' roll, from country and blues and Latin music, the true next step in the evolution of rock 'n' roll music. It was born of art, culture, political, and economic frustration. It spoke of a Los Angeles that existed when regionalism still reigned in the USA. It sounded like Los Angeles.

For the first time, the stories and photos from this now-fabled era are presented from those on the front lines. Stories that most have never heard about the art that was born under the big black sun.

About the Author
---
John Doe, a founding member of groundbreaking punk band X, has recorded eight solo records and as an actor has appeared in over fifty films and television productions.

Tom DeSavia is a longtime record and music publishing A&R man based in Los Angeles, California. DeSavia began his music industry career as a journalist.
Praise For…
---
LA Weekly, 7/28/16
"A collection of essays by a fraternity of key members of L.A.'s early punk scene between 1977 and 1982, before any of them experienced major-label interest and mainstream success…Stories of hardscrabble living, house parties and shambolic shows…Includes loads of photos and vintage gig fliers."

Scanner Zine, 7/25/16
"Each chapter works in its own right, focusing on a specialized area from each writer. As a collection, they create a comprehensive narrative that takes in all of those early LA legends…All of John Doe's pieces read like a noir film; his writing is incredibly stylized, panoramic and informative…This is the most complete and in-depth look at that initial LA Punk scene yet…Doe has collected a group of people who actually know how to write and write with flair…An informative and exciting book…It's deftly written, beautifully presented and makes the reader yearn for a time machine."

Red Dirt Report, 7/25/16
"[In] Under the Big Black Sun, we get a truckload of stories, mixed in with haphazard memories and hilarious situations, set against the angsty punk scene of Greater Los Angeles circa 1977-82, before everything was MTV-ized and sanitized for your protection…Offers a quick, 249-page peek into a scene that was so important to the music that would follow. A bloody good read."

SLUG Magazine, May 2016
"Filled with the rich personal histories from participants of the L.A. punk movement, Under The Big Black Sun shares L.A.'s history with the world…Through these tales, the enticing history of the first-wave era comes alive with each turn of the page…[A] thorough exploration of the ins and outs of the L.A. scene…Well worth the read…An essential collection that explores a punk era that was rich, interesting and above all, unapologetically honest."

Phoenix New Times, 5/6/16
"Chronicles the rough-and-tumble punk jungle of the L.A. underground scene that exploded between 1977 and 1982. Pretty heady stuff."

Ground Control, 5/6/16
"Under The Big Black Sun breaks tradition and presents a different kind of story in so doing…Like a brilliant mosaic, each piece fits together…In the end, what proves to be the coolest thing about Under The Big Black Sun is the fact that, no matter what tone the author employs for his or her contribution (be it heavy or dark or direct or folksy or sweet or sassy etc.), the tie that binds them all together is how obviously each of them adored their scene and how faithfully they wish to preserve it in this book. That love holds Under The Big Black Sun together and renders it a complete and satisfying read."

Vegas Seven, 6/14/16
"Under the Big Black Sun captures a bit of a shining moment before mass media took over, where the underground was something you had to dig for."

Austin Chronicle, 6/17/16
"A book as special as the scene it anthologizes."

Waterbury Republican-American, 6/19/16
"All of the familiar names are here, as well as hundreds of bands many readers will wish they could have witnessed in person."

Exclaim.ca, 6/21/16
"Punk rock can save your life, if it doesn't kill you first. That's the notion tying together Under the Big Black Sun: A Personal History of L.A. Punk, a collection of oral histories, war stories and elegies…If it reads like a whirlwind pastiche of different styles and tones, that's because that's the way the scene really was. Besides, there's real delight in reading about the wild and often unstable alliances forged between bands desperate to make it in unforgiving L.A…Valuable for not only giving us a glimpse into what punk rock looked like and sounded like, but also what it felt like."

Music News, 6/20/16
"Chronicles the early years of the frequently bleak and gritty scene through various contributors who were front and center…A brisk read…24 unflinchingly real chapters."


Esquire.com, 4/26/16
"The new book from punk icon John Doe offers a history of the overlooked music scene…For anyone who thinks that punk rock was limited to the famed scenes in London and New York, Under the Big Black Sun offers hard evidence that the L.A. scene was just as important—and perhaps created an even greater, lasting impact…A great story about the underappreciated music that came out of the City of Angels during that golden period of 1977-1982."

The A.V. Club, 4/25/16
"Under The Big Black Sun opens up L.A.'s punk-rock underbelly…Culled from the personal remembrances of roughly a dozen of the city's most prized punk-rock figures, the book digs deep into the ugly, dangerous, but nonetheless fraternal nature of the burgeoning L.A. punk scene of the late '70s and early '80s. From Hollywood over to East L.A. and south to San Pedro and Huntington Beach, Under The Big Black Sun covers the scene's considerable sprawl, from the sketchy clubs and apartment dwellings to the bands and the drug and booze-fueled chaos that followed them…The dirt dished on the bands and the music is great, but the book wisely casts a wider net to capture broader aspects of early L.A. punk culture…You-had-to-be-there style storytelling."


Praise for Under the Big Black Sun

Vogue.com, 2/28/16
"A candid look at one of rock's most exciting scenes."

Publishers Weekly, 4/4/16
"Doe, frontman for X, has gathered the testimonies of punk's progenitors in L.A., a scene only rivaled by those of New York and London for fecundity and influence."

Q Magazine, June 2016
"An excellent dissection of the unique cultural and sexual plurality of the LA scene…Compelling reading."

Library Journal, 4/15/16
"[A] fascinating collection of essays."

Rolling Stone, 5/5/16
"The true story of the Los Angeles punk scene…A set of vivid personal essays…The most artist-centered look yet at a scene that helped define the future of a music whose rallying cry was 'no future.'"

John Evans, co-owner of California's Diesel: A Bookstore, on NPR's All Things Considered, 7/22/16
"A great and generous memoir of L.A. punk."

Booklist, 7/21/16
"An entertaining, firsthand history that should appeal to punk fans everywhere."

Record Collector, May 2016
"A great read for anyone with even a passing interest in the U.S. underground of the time."


Music Aficionado, 5/6/16
"Really takes the reader back to the time punk broke in the L.A."

Lincoln Journal Star, 5/14/16
"Filled with candid, well written pieces…As valuable as a historical record as it is an innovative recounting of the scene."

Bookforum, 5/12/16
"Shin[es] a light on a legendary but largely unexamined corner of the West Coast counterculture…Nostalgic fans of LA punk will learn amazing things."

Chicago Tribune, 5/31/16
"A chronicle of the influential LA punk scene from 1977 to 1982, a first-hand story told by many of the musicians who lived it…The book captures a scruffy and rebellious era where a new breed of musicians flourished in cheap apartments, dive bars and music clubs. It was an underground scene that thrived on word of mouth before the advent of cellphones and the internet. Nearly 40 years on, that heady cultural time continues to influence music and fashion."

San Francisco Chronicle, 6/1/16
"Written with immediacy and brio, the book is suffused with the heady feeling of finding your tribe."

Philadelphia Inquirer, 6/5/16
"The music that emerged from the Los Angeles punk rock scene of the late 1970s and early '80s resisted easy categorization…It's an era skillfully recounted in Under the Big Black Sun."

PopMatters, 4/25/16
"A series of essays in which each voice shines…These aren't Rolling Stone profiles that have been sanitized to protect us from the truth, they're the real conversations that you'd have with this gang if any of them were your friends…The memories, some of them anyway, are here too for us to sort through and feel something akin to being there. What more could we want?"


RollingStone.com, 5/10/16
"A welcome diversion from the typical punk history books, which are often narratives or oral histories."

Punk Rock Theory, 5/20/16
"A personal history of LA punk, told by the people who were there…Together they paint a picture of a scene that was ugly, dangerous and came with sketchy clubs and lots of drugs, but where at the same time there was room for friendship, love and big dreams…Paints a surprisingly clear story of what must have been hazy days for all those involved."

Media Mikes, 5/18/16
"Written by X vocalist/bassist John Doe along with help from Tom DeSavia and laundry list of who's who from the late '70s and early '80s L.A. punk scene. For the first time in one place the true story of a scene often overlooked is told in all of its gritty and grimy detail by none other those who experienced it and by those who helped create it. This is not your typical memoir however as this book tells not only of how the scene began and developed but also how it went on to change music forever…John Doe does a great job recounting his stories from this era with vivid detail and truthfulness that make you want to keep turning the page…[A] captivating story…Full of rare photos that by themselves are worth the price of the book…From cover to cover Doe and DeSavia and crew nail it."


Spectrum Culture, 7/7/16
"The West Coast's answer to the seminal New York punk history, Please Kill Me…Help[s] paint a more complete picture of just what it was like to live and create in that climate…Under the Big Black Sun serves as the definitive statement on the richly diverse, unfairly overlooked Los Angeles punk scene."

Blurt Online, 7/1/16
"Did the world really need one more book about Punk Rock?...Yes. Yes, it did...There are bookshelves crammed with tomes about Punk Rock and plenty of those deal with the L.A. punk scene of the late '70s. But few are as refreshingly personal as John Doe's Under the Big Black Sun."

San Francisco Book Review, 7/17/16
"Told by those who lived it, those who sparked it, those who thrived there, and those who suffered there, Under the Big Black Sun is as personal a history as you're bound to find, exploring the evolution of punk in all its forms…This is a front row seat to the joy and mayhem…With voices like Jane Wiedlin, Henry Rollins, John Doe, and Exene Cervenka, among many others, this is punk brought to life, ugly and beautiful and vibrant and mean all at once."

Austin American-Statesman, 7/16/16
"Does was wise to get a few different voices in here; it gives Under the Big Black Sun a pleasing emotional heft."

Examiner.com, 5/3/16
"A fascinating, first-person account of professional gigging and groupie-dom in the late 1970s and early '80s…Doe's descent into the dark tumult of southern California in the post-Carter years is as seedy and unsterile as it is musically and historically significant…Doe effectively Sharpies an X on our hands for reentry into a world most of us probably never knew, into a labyrinth of alleyways and urine-besotted staircases populated by society's fringe-dwellers—the talented outcasts and intellectuals longing to carve their own niche into the urban fabric…It's all here, really, in its glorious repugnance: The intoxication, self-mutilation and promiscuity, the battered amplifiers and eyeliner, the outrageous exploits in brick-and-mortar meccas that would be shuttered after skinheads and hardcore thugs started yanking fixtures off the restroom walls…In Under the Big Black Sun, punk's unsung forefathers (and mothers) finally have their say their way…and we emerge smelling of cigarette smoke and alcohol, ears ringing."


"While X led the way, the L.A. punk scene had a distinctive voice all its own. With contributions from those who were there, this is a time capsule of music, politics and personal freedom."

—Indie 88

"A juggernaut of reminisces from an eclectic cast of Cali punk characters."—The Observer (UK), "The Best Music Books of 2016"

"John Doe anchors this collection of memories from those who survived the L.A. punk scene...It's like listening to a group of friends reminisce."
—Goldmine

"A great book."—Billboard.com

"John Doe and Tom DeSavia have woven together an enthralling story of the legendary West Coast scene from 1977-1982 by enlisting the voices of people who were there." —Business Insider Australia

"The book is an incredible read, on part with Easy Riders, Raging Bulls, or The Kid Stays In The Picture. But the audio version is sensational, because the essayists who contributed to the book read their own work. If you're a fan of the music and the musicians, I can't oversell how great it is to own both audio and print versions, because the photos in the print version are magnificent."

—WilWheaton.net

"The book does a fine job of capturing the rebellious spirit of this group of anti-Top Forty radio commandos...Although books of essays that collect the thoughts of various authors are often uneven, somehow this one retains its coherence and sense of identity. Everyone who writes here was part of the scene in one way or another, not simply observers writing from a distance...If you want to learn more about the LA punk scene of the 70s, this is a good place to turn."
—Portland Book Review

"A wonderful multi-authored book not just about what turned out to be a key time in this music scene but with much wider resonance about invention [and] community."—Manchester Review of Books
Coverage from NPR