Fallopian Rhapsody: The Story of the Lunachicks (Paperback)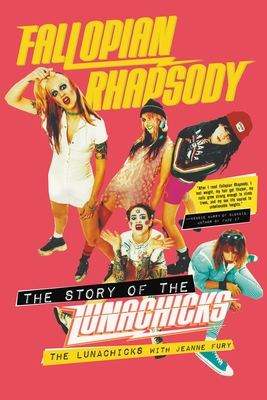 $18.99

Available in our Warehouse: Usually Ships in 3-8 Days
Description
---
Dive into this no-holds-barred group autobiography of the critically acclaimed feminist punk-rock group, The Lunachicks—featuring never-before-seen materials from the band's private archive.

Fallopian Rhapsody: The Story of the Lunachicks is a coming-of-age tale about a band of NYC teenagers who forged a sisterhood, found salvation, and fervently crashed the gates of punk rock during the '90s, accidentally becoming feminist icons along the way. More than that, this is a story about the enduring friendship among the book's three central voices: Theo Kogan, Sydney Silver, and Gina Volpe. They formed the Lunachicks at LaGuardia High School (of "Fame" fame) in the late '80s and had a record deal with Blast First Records as teenagers, whisked into the studio by Kim Gordon and Thurston Moore.

Over the course of thirteen-ish years, the Lunachicks brought their brand of outrageous hard-rockin' rebelliousness around the world countless times, simultaneously scaring conservative onlookers and rescuing the souls of wayward freaks, queers, and outcasts.Their unforgettable costume-critiques of pop culture were as loud as their "Marsha[ll]" amps, their ferocious tenacity as lasting as their pre-internet mythology. They toured with bands like the Go-Go's, Marilyn Manson, No Doubt, Rancid, and The Offspring; played the Reading Festival with Nirvana; and rocked the main stage at the Warped tour twice.

Yet beneath all the makeup, wigs, and hilarious outfits were three women struggling to grow into adulthood under the most unorthodox of conditions. Together onstage they were invincible B-movie superheroes who kicked heaps of ass—but apart, not so much. Depression, addiction, and identity crises loomed overhead, not to mention the barrage of sexist nonsense they faced from the music industry.

Filled with never-before-seen photos, illustrations, and ephemera from the band's private archive, and featuring contributions from Lunachicks drummer Chip English, founding member Sindi B., and former bandmate Becky Wreck, Fallopian Rhapsody is a bawdy, gripping, warts-and-all account of how these city kids relied on their cosmic creative connection to overcome internal strife and external killjoys, all the while empowering legions of fans to shoot for the moon.

For readers of Carrie Brownstein's Hunger Makes Me a Modern Girl, Kim Gordon's Girl in a Band, and Chrissie Hynde's Reckless, Fallopian Rhapsody is the literary equivalent of diving headfirst into a moshpit and slowly but surely venturing up to the front of the stage.

About the Author
---
The Lunachicks released six albums and toured internationally for almost thirteen years. The New York Times described them as "feminist, trashy, righteous, foul-mouthed and certainly fun."Jeanne Fury is a music journalist who's been published in the Village Voice, Billboard, Entertainment Weekly, rollingstone.com, spin.com, NYMag.com, and elsewhere. She contributed to Women Who Rock (Black Dog/Leventhal, October 2018), as did frontwoman Theo Kogan.
Praise For…
---
"Their name alone is a stroke of genius, and bless them for keeping the faith in Rock alive. Now
Fallopian Rhapsody
confirms the myth, and after I read the book, I lost weight, my hair got thicker, my nails grew strong enough to climb trees, and my sex life soared to unbelievable heights."—
Debbie Harry of Blondie, author of Face It
"This book contains the realest, funniest, most heart-wrenching writing about being in a band I've ever read. The first Lunachicks record,
Babysitters on Acid
, gave me permission to be my full self as a singer (though NO ONE can touch Theo Kogan's voice EVER), and now this book has confirmed what I already knew. The Lunachicks, as people, are as hilarious, complicated, and undeniable as their songs."—
Kathleen Hanna of The Julie Ruin, Le Tigre, and Bikini Kill
"As a rebellious New York City teenager deeply involved in the underground music scene, I cannot stress the magnitude and impact the Lunachicks had on not just me, not just female musicians, but the New York City scene as a whole. They were torch bearers for all of us, giving us permission and inspiration to be as wild as we could possibly imagine and just go for it. It was an absolute side-splitting and heartbreaking joy to read all these personal stories and know what was really going on behind all that black eyeliner. Thanks for kicking that door open so the rest of us could run in."—
Jessica Pimentel of Orange Is the New Black
"Was anyone ever as powerful as teen girls in the 1990s NYC? This sexy, funny, totally bonkers band memoir took me right back to that dangerous DIY era in all its filth and freedom.
Fallopian Rhapsody
is a valuable addition to the literary canons of obnoxious punk rock, TV-raised Generation X, and messy, creative female friendships that last a lifetime."—
Ada Calhoun, author of St. Marks Is Dead and Why We Can't Sleep
"For me, the Lunachicks embodied the lower east side of the '90s. Gritty, glammy, over-the-top punk rock and rollers, this was a band that you had to see to believe. Out of the thousands of concerts I've seen, the first time I saw the Lunachicks stands out to me as the most 'What the f**k did I just witness?' moment of my concert-going life.
Fallopian Rhapsody
is a must-read for fans of the CBGB-era rock scene that was New York City and brings to life the unique swagger and controlled (or sometimes not so controlled) chaos that was the Lunachicks. Both poignant and hilarious, it's a book that when finished makes you ponder 'What the f**k did I just read?'"—
Chris Santos, cofounder of Beauty & Essex and judge on Chopped
"
Fallopian Rhapsody
is a whirlwind ride through untold punk rock history on the wheels of a cross-country tour with the Lunachicks, from illuminated stories on the catastrophic dynamics between bandmates as sisters to the necessary details on the drugs and assholes who attempted to break them. Often told in first person,
Fallopian Rhapsody
is a tell-all tale on existing fabulously, outside of every potential box. It's a time capsule that brings light to the sound, action, filth, decadence, and nasty-woman rapture of seminal NYC punks, the Lunachicks."—
Cristy Road Carrera of Next World Tarot, Spit and Passion, Choked Up, and The Homewreckers
"If I was a mother, I would hand this book to my kid and say LEARN! So it's probably good that I'm not a mother. However I AM a PERSON and I WISH I'd had this book to read when I was a kid to learn how to be a fierce FRIEND, and what really goes into being a courageous, unapologetic ARTIST. Thanks for being the blueprint, Lunachicks!!!"
—
Justin Vivian Bond
"Trashy rock 'n' roll fun—a Thunderbird alternative to typical rock-memoir Chardonnay." —
Kirkus Reviews
"A frank, deeply honest telling of the Lunachicks' history."—
New Noise
"The Lunachicks collectively offer a refreshing, brutally honest look at the hassles, sexism, pressure, and sisterhood of the rock-and-roll life." —
Library Journal