Hoot (CD-Audio)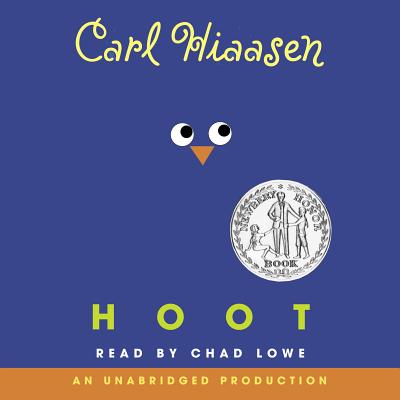 Email us for price & availability: info@oblongbooks.com
Special Order - Subject to Availability
Description
---
This Newbery Honor winner and #1 New York Times bestseller is a beloved modern classic. Hoot features a new kid and his new bully, alligators, some burrowing owls, a renegade eco-avenger, and several extremely poisonous snakes.

Everybody loves Mother Paula's pancakes. Everybody, that is, except the colony of cute but endangered owls that live on the building site of the new restaurant. Can the awkward new kid and his feral friend prank the pancake people out of town? Or is the owls' fate cemented in pancake batter?

Welcome to Carl Hiaasen's Florida—where the creatures are wild and the people are wilder!
About the Author
---
Carl Hiaasen was born and raised in Florida. He is the author of eight previous novels, including Sick Puppy, Lucky You, and Stormy Weather. He also writes a twice-weekly metropolitan column for the Miami Herald.
Praise For…
---
"It seems unlikely that the master of noir-tinged, surrealistic black humor would write a novel for young readers. And yet, there has always been something delightfully juvenile about Hiaasen's imagination; beneath the bent cynicism lurks a distinctly 12-year-old cackle. In this thoroughly engaging tale of how middle schooler Roy Eberhardt, new kid in Coconut Cove, learns to love South Florida, Hiaasen lets his inner kid run rampant, both the subversive side that loves to see grown-ups make fools of themselves and the righteously indignant side, appalled at the mess being made of our planet. The story is full of offbeat humor, buffoonish yet charming supporting characters, and genuinely touching scenes of children enjoying the wildness of nature. He deserves a warm welcome into children's publishing."—Booklist

"A wonderful tour-de-force."—The Boston Globe

"A rollicking, righteous story."—The Miami Herald

"You don't have to be a young adult to enjoy it."—The New York Times Book Review

"Yes, it is a hoot."—The Washington Post Book World
We appreciate your continued support!
If you would like to make a donation to help us through CLICK HERE.