The Girl Who Kicked the Hornet's Nest (Millennium Series #3) (Hardcover)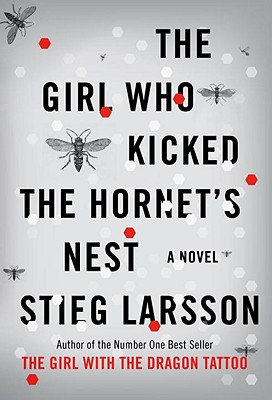 $27.95
This item is not currently available to order.
June 2010 Indie Next List
---
"Slam dunk! In the riveting conclusion to the Millenium trilogy, Larsson ties up all loose ends, and engages our hearts and minds through the characters of Lisbeth Salander and Mikael Blomkvist."
— Jennie Turner-Collins, Joseph-Beth Booksellers, Cincinnati, OH
Description
---
Lisbeth Salander—the heart of Larsson's two previous novels—lies in critical condition, a bullet wound to her head, in the intensive care unit of a Swedish city hospital. She's fighting for her life in more ways than one: if and when she recovers, she'll be taken back to Stockholm to stand trial for three murders. With the help of her friend, journalist Mikael Blomkvist, she will not only have to prove her innocence, but also identify and denounce those in authority who have allowed the vulnerable, like herself, to suffer abuse and violence. And, on her own, she will plot revenge—against the man who tried to kill her, and the corrupt government institutions that very nearly destroyed her life.

Once upon a time, she was a victim. Now Salander is fighting back.
About the Author
---
Stieg Larsson, who lived in Sweden, was the editor in chief of the magazine Expo and a leading expert on antidemocratic, right-wing extremist and Nazi organizations. He died in 2004, shortly after delivering the manuscripts for The Girl with the Dragon Tattoo, The Girl Who Played with Fire, and The Girl Who Kicked the Hornet's Nest.
Praise For…
---
"A thoroughly gripping read . . . Lisbeth Salander, Stieg Larsson's fierce pixie of a heroine, is one of the most original characters in a thriller to come along in a while—a gamin, Audrey Hepburn look-alike but with tattoos and piercings, the take-no-prisoners attitude of Lara Croft and the cool, unsentimental intellect of Mr. Spock . . . Owes less to the Silence of the Lambs horror genre than to something by John le Carré."
—Michiko Kakutani, New York Times 
 
"The literary equivalent of a caffeine rush . . . Larsson was one of those rare writers who could keep you up until 3 a.m. and then make you want to rush home the next night to do it again . . . Larsson is something like John Grisham [but] Larsson held an extra ace: the creation of Salander."
—Newsweek
 
"It's over! And I feel the same sense of pleasure and loss that I did when I watched the finale of 'The Sopranos' and the last episodes of 'Battlestar Galactica' . . . Salander is, I promise, someone you will never forget . . . Anyone who enjoys grounding their imaginations in hundreds and hundreds and hundreds of exciting pages about the way we live now ought to take advantage of this trilogy."
—Alan Cheuse, Chicago Tribune
 
"Larsson has produced a coup de foudre, a novel that is complex, satisfying, clever, moral . . . This is a grown-up novel for grown-up readers, who want something more than a quick fix and a car chase. And it's why the Millennium trilogy is rightly a publishing phenomenon all over the world."
—Guardian

"A heart-stopping showdown showcases one of crime fiction's most unforgettable characters—and cements Larsson's rep as one of its most passionate and original voices."
—People
  
"Confirms Larsson as one of the great talents of contemporary crime fiction."
—Sunday Times (UK)
 
"Exhilarating . . . Larsson's was an undeniably powerful voice in crime fiction that will be sorely missed."
—Publishers Weekly
 
"Fast-paced enough to make those Jason Bourne films seem like Regency dramas."
—Kirkus Reviews
 
"Larsson's vivid characters, the depth of the detail across the three books, the powerfully imaginative plot, and the sheer verve of the writing make the trilogy a masterpiece of its genre."
—The Economist
 
"There are few characters as formidable as Lisbeth Salander in contemporary fiction of any kind . . . She dominates the stage like Lear . . . She will be sorely missed."
—Booklist

"Larsson's work is original, inventive, shocking, disturbing, and challenging . . . His novels have brought a much needed freshness into the world of crime fiction."
—Times (UK)
 
"Fans will not be disappointed: this is another roller-coaster ride that keeps you reading far too late into the night."
—Evening Standard
 



Coverage from NPR