The Man from Beijing (Hardcover)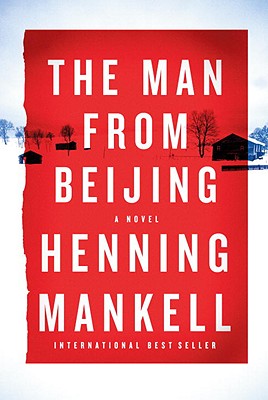 $25.95
This item is not currently available to order.
March 2010 Indie Next List
---
"Henning Mankell's stand-alone novel spans 150 years in a story that begins with a murder in a small Swedish hamlet. Exquisitely plotted with dynamic characterizations, this thrilling saga is as good if not better than any of Mankell's Inspector Wallander novel."
— Joyce Behncke, Third Place Books, Lake Forest Park, WA
Description
---
The acclaimed author of the Kurt Wallander mysteries, writing at the height of his powers, now gives us an electrifying stand-alone global thriller.

January 2006. In the Swedish hamlet of Hesjövallen, nineteen people have been massacred. The only clue is a red ribbon found at the scene.

Judge Birgitta Roslin has particular reason to be shocked: Her grandparents, the Andréns, are among the victims, and Birgitta soon learns that an Andrén family in Nevada has also been murdered. She then discovers the nineteenth-century diary of an Andrén ancestor—a gang master on the American transcontinental railway—that describes brutal treatment of Chinese slave workers. The police insist that only a lunatic could have committed the Hesjövallen murders, but Birgitta is determined to uncover what she now suspects is a more complicated truth.

The investigation leads to the highest echelons of power in present-day Beijing, and to Zimbabwe and Mozambique. But the narrative also takes us back 150 years into the depths of the slave trade between China and the United States—a history that will ensnare Birgitta as she draws ever closer to solving the Hesjövallen murders.
About the Author
---
Henning Mankellis the prizewinning author of the Kurt Wallander mysteries, which were adapted into a PBS television series starring Kenneth Branagh. His novels have been translated into forty languages and have sold thirty million copies worldwide. He is the first winner of the Ripper Award (the new European Crime Fiction Star Award) and has also received the Glass Key and Golden Dagger awards. He divides his time between Sweden and Mozambique.
Praise For…
---
"This is hands down the best thriller I've read in five years. Grade: A . . . Complex and enormously satisfying."
—Entertainment Weekly

"The book cements Mankell's reputation as Sweden's greatest living mystery writer . . . Roslin is a sort of Nordic Miss Marple."
—Los Angeles Times

"Mankell succeeds in transfixing the reader with a masterly balance of character sketches and pell-mell storytelling. He is entirely convincing in his depiction of ordinary people becoming enmeshed in geopolitical intrigue."
—Wall Street Journal

"Mankell's new book is an original but still chock-a-block with gory crime combined with hints of the late Stieg Larsson's social concern and John le Carré's international intrigue."
—Pittsburgh Post-Gazette
 
"A must-read for anyone interested in the international crime novel."
—Booklist

"Over the past decade or so, Henning Mankell has built a large audience that, even now, in the (mostly) snowless U.S., can't wait to find copies of his new snowbound work of mystery. The Man from Beijing more than repays such patience. It's a terrific police procedural . . . Despite the broad reach of the plot, the book never puts the reader in danger of losing interest."
—Alan Cheuse, Dallas Morning News 
   
"The Man from Beijing, though not a Wallander novel, is the equal to any in that series. It's the work of a writer with the imagination, brains, resources, and joinerly craft needed to make thoughtful, challenging, exciting, artistic novels . . . Remarkable."
—Philadelphia Inquirer
 
"Scandinavian crime writing has seldom shouldered the burdens of world history with such upfront ambition."
—Independent (UK)
 
"Breathtakingly bold in its scope."
—Kirkus Reviews

"Gripping . . . It is the disruption, the threat and the delicious chill of fear, all safely contained, that is the pleasure of this book."
—Observer (UK) 

"With this overwhelming thriller, Mankell has perhaps presented us with his best book ever." 
 —Westdeutsche Allgemeine (Germany)
 
"Mankell's best thriller in fifteen years." 
 —Svenska Dagbladet (Sweden)
 
"A fantastic book . . . The book of the year so far . . . Whether you read it as a suspense novel, a thriller, or as commentary on the world of today with roots more than 150 years back, it is fascinating." 
 —Kulturspeilet (Norway)
 
"[The Man from Beijing] conquers the world." 
 —Borås Tidning (Sweden)
 
"Mankell shows us once again that he is the absolute master of his class." 
 —Kulturbase (Germany)
 
"There is no doubt that Mankell with this blockbuster of a thriller has written one of his best books . . . Suspense until the last page, audacious storytelling, and two female main characters presented with care and compassion."
—Dagsavisen (Norway)
 
 "Explosive."
—Leben & Glauben (Germany)

 
Coverage from NPR