The Confessions of Edward Day (Vintage Contemporaries) (Paperback)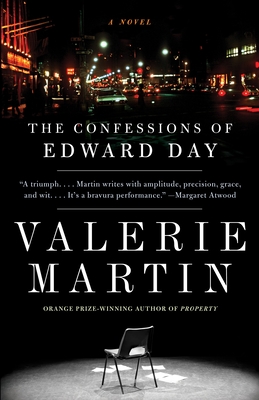 $17.55
Email or call for price.
Description
---
A brilliant new novel set in the bohemian, glamorous theater world of 1970s New York, by the Orange Prize-winning author of Property.
 
It's the 1970s in New York—rents are cheap, love is free, and with the explosion of theater venues off and off-off Broadway, aspiring actors will work for nothing in no clothes. Enter Edward Day, who wants more than anything to move an unsuspecting audience to an experience of emotional truth. But he must also contend with the drama of his own life: he is locked in a bitter rivalry with fellow actor Guy Margate, with whom he shares a marked physical resemblance and a fatal attraction to the beautiful, talented, and all-too-available Madeleine Delavergne. Edward's pursuit of Madeleine is complicated by the fact that he owes Guy his life. In this riveting tale of paranoia, passion, jealousy, and relentless ambition, Edward will learn that the truth, in the theater as in life, is ever elusive and never inert.
About the Author
---
VALERIE MARTIN is the author of eight novels, including Trespass, Italian Fever, The Great Divorce, Mary Reilly, and the 2003 Orange Prize-winning Property, and three collections of short fiction.
Praise For…
---
"A triumph. . . . Martin writes with amplitude, precision, grace, and wit. . . . It's a bravura performance." —Margaret Atwood

"Suspenseful. . . . A self-contained gem. . . . Lovers of the novel are in for a treat. . . . Valerie Martin is one of the best novelists we have." —Jane Smiley

"One of the best novels I've ever read about the actor's psyche." —Laurie Winer, The New York Times Book Review
 
"Martin does a terrific job of capturing what it is to go to auditions, work day and night to keep a roof over your head, share camaraderie and rivalry with peers, all to get that longed-for callback for a really great part." —The Seattle Times
 
"Briskly chilling. . . . Faultlessly captures the young New York actor's cloistered world of classes, auditions, day jobs and competitive friendships." —The Washington Post
 
"Martin tells [The Confessions of Edward Day] with great skill and sympathy."  —The Wall Street Journal
 
"Like an understated but persuasive musical score. . . . [Martin's] details are masterful in their spareness." —The Los Angeles Times
 
"[A] marvel. . . . [Martin's] gift for suspense is surpassed only by her gifts for dialogue, for description, for variety, for veracity. Not to mention her edge, her wit, her ability to make us smile. . . . Once again, she has drawn us so willingly into her tangled—but always welcoming—web."  —The Buffalo News
 
"An interesting thriller. . . . You'll be hooked."  —The Miami Herald
 
"The Confessions of Edward Day reveals a journeyman storyteller exploring yet another new-to-her world. And aren't we lucky to have such great seats for the ride?"  —January Magazine
 
"A lively blend of heartbreak and truth-telling, self-deception and hope." —The Times-Picayune (New Orleans)
 
"Martin . . . returns in fine form. . . . A richly entertaining meditation on the price of success."  —Howard County Times
 
"A chilling end . . . leaves us intrigued."  —The Salt Lake Tribune
 
"An icy psychosexual thriller. . . . The text knowingly embodies its theme, performance, rehearsing, riffing, interpreting, as an actor interprets a script. And thanks to the deadpan narration the jokes are fun." —The Times Literary Supplement (UK)
 
"When the climax finally comes, all the pieces fall into place, but not in a predictable way. Like the roles that Edward plays, the final scene is open to interpretation by all the participants, as well as by the reader." —Yamhill-Valley News-Register
 
"One of Martin's best novels yet . . . . [She] builds a vivid world full of wisdom for the lives that it illuminates. . . . Full of warmth and intrigue whose pages do all but turn themselves." —The Australian
 
"Echo[es] an established classic . . . The Picture of Dorian Gray. . . . Valerie Martin is an impressively dexterous writer. . . . Where the book scores is in its stylish, intelligent, unruffled prose."  —The Telegraph (UK)
 
"Hugely enjoyable."  —The Independent (UK)