In the Garden of Beasts: Love, Terror, and an American Family in Hitler's Berlin (Hardcover)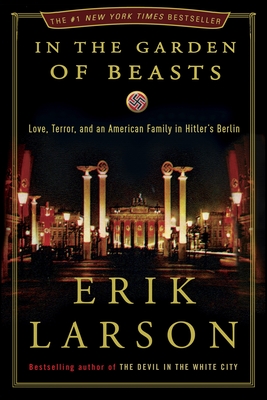 $30.00

Available in our Warehouse: Usually Ships in 3-8 Days
May 2011 Indie Next List
---
"What would it have been like to live in Berlin during the first year of Hitler's reign? Larson's answer is as haunting as anything he has ever written. The narrative focuses on William Dodd, a mild-mannered scholar who was appointed U.S. ambassador to Germany in 1933. Adolph Hitler had been chancellor for a mere six months. Over the ensuing year, Dodd and his family members saw their hope and sense of promise turn into horror and revulsion as Germany rapidly descended into a pit of violence and fear. In the Garden of Beasts is a surprising, informative plea to heed the lessons of history."
— Christopher Rose, Andover Bookstore, Andover, MA
Summer 2012 Reading Group
---
"Larson once again tells the story of real people living through momentous, historic events. In 1933, William Dodds becomes America's ambassador to Germany, a year after Adolf Hitler was named chancellor of Germany. Dodds brings his family with him to Berlin, including his daughter, Martha, a vivacious socialite. The U.S. State Department shows more concern about reconciliation with Germany in hopes of debt repayment than in the increasing signs that Hitler is stepping up violence against Jews and building up his military capabilities. With the Dodds family, you will be right in the middle of the events that led up to WWII."
— Jeanne Costello, Maria's Bookshop, Durango, CO
Description
---
"Larson is a marvelous writer...superb at creating characters with a few short strokes."—New York Times Book Review
  
Erik Larson has been widely acclaimed as a master of narrative non-fiction, and in his new book, the bestselling author of Devil in the White City turns his hand to a remarkable story set during Hitler's rise to power.
 
The time is 1933, the place, Berlin, when William E. Dodd becomes America's first ambassador to Hitler's Germany in a year that proved to be a turning point in history.
 
A mild-mannered professor from Chicago, Dodd brings along his wife, son, and flamboyant daughter, Martha. At first Martha is entranced by the parties and pomp, and the handsome young men of the Third Reich with their infectious enthusiasm for restoring Germany to a position of world prominence. Enamored of the "New Germany," she has one affair after another, including with the suprisingly honorable first chief of the Gestapo, Rudolf Diels. But as evidence of Jewish persecution mounts, confirmed by chilling first-person testimony, her father telegraphs his concerns to a largely indifferent State Department back home. Dodd watches with alarm as Jews are attacked, the press is censored, and drafts of frightening new laws begin to circulate. As that first year unfolds and the shadows deepen, the Dodds experience days full of excitement, intrigue, romance—and ultimately, horror, when a climactic spasm of violence and murder reveals Hitler's true character and ruthless ambition.
 
Suffused with the tense atmosphere of the period, and with unforgettable portraits of the bizarre Göring and the expectedly charming--yet wholly sinister--Goebbels, In the Garden of Beasts lends a stunning, eyewitness perspective on events as they unfold in real time, revealing an era of surprising nuance and complexity. The result is a dazzling, addictively readable work that speaks volumes about why the world did not recognize the grave threat posed by Hitler until Berlin, and Europe, were awash in blood and terror.
About the Author
---
Erik Larson is the author of six New York Times bestsellers, most recently The Splendid and the Vile: A Saga of Churchill, Family, and Defiance During the Blitz, which examines how Winston Churchill and his "Secret Circle" went about surviving the German air campaign of 1940-41. Larson's The Devil in the White City is set to be a Hulu limited series; his In the Garden of Beasts is under option by Tom Hanks for a feature film. He recently published an audio-original ghost story, No One Goes Alone, which has been optioned by Chernin Entertainment, in association with Netflix. His Thunderstruck has been optioned by Sony Pictures Television for a limited TV series. Larson lives in Manhattan with his wife, who is a writer and retired neonatologist; they have three grown daughters.
Praise For…
---
"By far his best and most enthralling work of novelistic history….Powerful, poignant…a transportingly true story."--The New York Times

"Tells a fascinating story brilliantly well."--Financial Times

"Highly compelling...Larson brings Berlin roaring to life in all its glamour and horror...a welcome new chapter in the vast canon of World War II."--Christian Science Monitor 

"Terrific."--Los Angeles Times

"A stunning work of history."--Newsweek

"Larson has meticulously researched the Dodds' intimate witness to Hitler's ascendancy and created an edifying narrative of this historical byway that has all the pleasures of a political thriller….a fresh picture of these terrrible events."--The New York Times Book Review
 
"Larson has taken a brilliant idea and turned it into a gripping book."--Women's Wear Daily

"Harrowingly suspenseful." Vogue.com

"A gripping, deeply-intimate narrative with a climax that reads like the best political thriller, where we are stunned with each turn of the page."--Louisville Courier Journal

"Electrifying reading...fascinating." Minneapolis Star-Tribune
 
"Larson's latest chronicle of history has as much excitement as a thriller novel, and it's all the more thrilling because it's all true."--Asbury Park Press

"A superb book...nothing less than masterful."--Toronto Globe and Mail  

"Even though we know how it will end — the book's climax, the Night of the Long Knives, being just the beginning, this is a page-turner, full of flesh and blood people and monsters too, whose charms are particularly disturbing."--Portland Herald

"Larson succeeds brilliantly…offers a fascinating window into the year when the world began its slow slide into war."--Maclean's Magazine

"Erik Larson tackles this outstanding period of history as fully and compellingly as he portrayed the events in his bestseller, THE DEVIL IN THE WHITE CITY. With each page, more horrors are revealed, making it impossible to put down. IN THE GARDEN OF BEASTS reads like the true thriller it is."--BookReporter.com

"Larson's strengths as a storyteller have never been stronger than they are here, and this story is far more important than either "The Devil in the White City" or "Thunderstruck." How the United States dithered as Hitler rose to power is a cautionary tale that bears repeating, and Larson has told it masterfully."--Cleveland Plain Dealer

"Reads like an elegant thriller…utterly compelling… marvelous stuff. An excellent and entertaining book that deserves to be a bestseller, and probably will be."—The Washington Post
 
"Larson's scholarship is impressive, but it's his pacing and knack for suspense that elevates the book from the matter-of-fact to the sublime."--Pittsburgh Review

"A master at writing true tales as riveting as fiction."--People (3 1/2 stars)

"Larson has done it again, expertly weaving together a fresh new narrative from ominous days of the 20th century."--Associated Press

""Mesmerizing...cinematic, improbable yet true."--Philadelphia Inquirer

"[L]ike slipping slowly into a nightmare, with logic perverted and morality upended….It all makes for a powerful, unsettling immediacy."--Bruce Handy, Vanity Fair

"Dazzling….Reads like a suspense novel, replete with colorful characters, both familiar and those previously relegated to the shadows.  Like Christopher Isherwood's Berlin Stories or Victor Klemperer's Diaries, IN THE GARDEN OF BEASTS is an on-the-ground documentary of a society going mad in slow motion."--The Chicago Sun-Times

"[G]ripping, a nightmare narrative of a terrible time.  It raises again the question never fully answered about the Nazi era—what evil humans are capable of, and what means are necessary to cage the beast."--The Seattle Times

"In this mesmerizing portrait of the Nazi capital, Larson plumbs a far more diabolical urban cauldron than in his bestselling The Devil in the White City...a vivid, atmospheric panorama of the Third Reich and its leaders, including murderous Nazi factional infighting, through the accretion of small crimes and petty thuggery."--Publishers Weekly(Starred Review)

Praise for Erik Larson
  
THUNDERSTRUCK
"A ripping yarn of murder and invention."—Los Angeles Times

"Larson's gift for rendering an historical era with vibrant tactility and filling it with surprising personalities makes Thunderstruck an irresistible tale."—The Washington Post Book World

"Gripping….An edge-of-the-seat read."—People
 
DEVIL IN THE WHITE CITY
"[Larson] relentlessly fuses history and entertainment to give this nonfiction book the dramatic effect of a novel….a dynamic, enveloping book."
—The New York Times

"A hugely engrossing chronicle of events public and private. Exceedingly well-documented, exhaustive without being excessive, and utterly fascinating."
—Chicago Tribune
 
"An irresistible page-turner that reads like the most compelling, sleep-defying fiction."—Time Out New York

 ISAAC'S STORM 
"A gripping account…fascinating to its core, and all the more compelling for being true."—New York Times Book Review

"Superb...Larson has made the Great Hurricane live again."—The Wall Street Journal

"Gripping….The Jaws of hurricane yarns."—Newsday
Coverage from NPR