Angelmaker (Hardcover)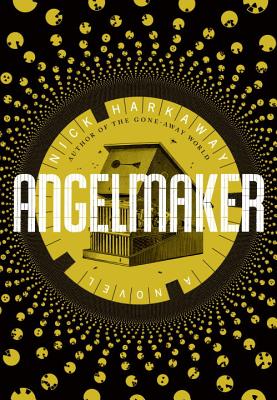 $28.30
Email or call for price.
April 2012 Indie Next List
---
"Joe Spork actively resists becoming a gangster like his dad. He knows he's missing something in his life as a law-abiding clockmaker, but can't quite put his finger on it. Reluctantly, he agrees to do a job for a friend from the shadier spots of his past and unknowingly turns on a machine that just might end the world as we know it. What follows is an escalating escapade into a world of mad scientists, a religious cult, secret agents, a death czar, covert government bureaucrats, swarms of golden bees, and gangsters galore. Angelmaker is an imaginative romp, another delightful story from the curious mind of Nick Harkaway."
— Hannah Johnson-Breimeier, The Next Chapter Bookstore, Montgomery, MN
Description
---
A Wall Street Journal and Booklist Best Mystery of 2012

From the acclaimed author of The Gone-Away World, blistering gangster noir meets howling absurdist comedy as the forces of good square off against the forces of evil, and only an unassuming clockwork repairman and an octogenarian former superspy can save the world from total destruction. Joe Spork spends his days fixing antique clocks. The son of infamous London criminal Mathew "Tommy Gun" Spork, he has turned his back on his family's mobster history and aims to live a quiet life. That orderly existence is suddenly upended when Joe activates a particularly unusual clockwork mechanism. His client, Edie Banister, is more than the kindly old lady she appears to be--she's a retired international secret agent. And the device? It's a 1950s doomsday machine. Having triggered it, Joe now faces the wrath of both the British government and a diabolical South Asian dictator who is also Edie's old arch-nemesis. On the upside, Joe's got a girl: a bold receptionist named Polly whose smarts, savvy and sex appeal may be just what he needs. With Joe's once-quiet world suddenly overrun by mad monks, psychopathic serial killers, scientific geniuses and threats to the future of conscious life in the universe, he realizes that the only way to survive is to muster the courage to fight, help Edie complete a mission she abandoned years ago and pick up his father's old gun . . .
About the Author
---
Nick Harkaway was born in Cornwall in 1972. He studied philosophy, sociology and politics at Clare College, Cambridge, and then worked in the film industry. His fiction debut was The Gone-Away World. He lives in London with his wife and daughter. www.nickharkaway.com
Praise For…
---
"It's hard to put a finger on exactly why Angelmaker is one of the year's best books. Know this, though: it is."
    —Niall Alexander, Tor.com

"Greetings to Joe Spork, the book world's newest hero. He springs from the fertile, absurdist imagination of Harkaway in his follow-up to The Gone-Away World."
   —Billy Heller, New York Post
 
"Brilliant, wholly original, and a major-league hoot."
    —Adam Woog, The Seattle Times

"[Harkaway] manages to write surrealist adventure novels that feel both urgent and relevant. His novels are fun to read without seeming particularly frivolous, and beneath all the derring-do and shenanigans, there's a low thrum of anxiety: everything and everyone you love could disappear at any moment. . . . Angelmaker is a truly impressive achievement."
    —Emily St. John Mandel, The Millions
 
"A big, gleefully absurd, huggable bear of a novel. . . . A pleasantly roomy book, a grand old manor house of a novel that sprawls and stretches. . . . In passage after passage, Angelmaker opens up, making room for the reader, until we aren't merely empathizing with Joe Spork's plight but feeling it keenly. . . . All the more reason to applaud Harkaway for creating Joe Spork: not only like us but likable, a hero who serves not as a dark mirror but as a funhouse one."
     —Glen Weldon, Slate 
 
"[A] gloriously uninhibited romp of a novel. . . . Harkaway has managed to recapture the lighthearted brio of an earlier age of precision entertainment, when the world was deemed to be perpetually teetering on the brink of Armageddon but always capable of being snatched back to safety with a quip, a wink, [and] a judo chop."
    —Paul Di Filippo, Barnes and Noble Review 

"A lot of books are fun to read for the plot; a smaller percentage display this artful mastery of the language. And precious few manage to do both. Angelmaker, the second novel by British writer Nick Harkaway, falls into that last category. . . . This is not the sort of book I zip through, despite wanting to know what happens next. It's the sort of book you want to let steep in your brain a bit before you take another taste."
     —Jonathan Liu, Wired.com's GeekDad blog

"An intricate and brilliant piece of escapism, tipping its hat to the twisting plots of John Buchan and H Rider Haggard, the goggles-and-gauntlets Victoriana of the steampunk movement and the labyrinthine secret Londons of Peter Ackroyd and Iain Sinclair, while maintaining an originality, humour and verve all its author's own. . . .  Angelmaker must have been huge fun to write, and it is huge fun to read. . . . A fantasy espionage novel stuffed with energetic, elegant writing that bowls the reader along while reflecting profitably on the trends of the times. Gleefully nostalgic and firmly modern, hand-on-heart and tongue-in-cheek, this is as far as it could be from the wearied tropes that dominate so much of fantasy and SF. I can't wait to see what Harkaway does next."
     —Tim Martin, Daily Telegraph, (5 out of 5 stars)

"Harkaway's celebrated debut, The Gone-Away World . . . was really just a warm up act—a prodigiously talented novelist stretching muscles that few other writers even possess—for this tour de force Dickensian bravura and genre-bending splendor. . . . This is a marvelous book, both sublimely intricate and compulsively readable."
      —Bill Ott, Booklist (starred review)
 
"Harkaway keeps us guessing, traveling the edges between fantasy, sci-fi, the detective novel, pomo fiction and a good old-fashioned comedy of the sort that Jerome K. Jerome might have written had he had a ticking thingy instead of a boat as his prop. . . . His tale stands comparison to Haruki Murakami's 1Q84."
     —Kirkus (starred review)

"A long, wild journey through a London dream world. . . . With its bizarre scenarios and feverish wordiness, its huge cast of British eccentrics and the ark forces of paranoia and totalitarianism lurking everywhere, this novel recalls the works of Martin Amis and Will Self. Immense fun and quite exciting."
    —Jim Coan, Library Journal

"A puzzle box of a novel as fascinating as the clockwork bees it contains, filled with intrigue, espionage and creative use of trains. As if that were not enough to win my literary affection, Harkaway went and gave me a raging crush on a fictional lawyer."
     —Erin Morgenstern, author of The Night Circus

"You are in for a treat, sort of like Dickens meets Mervyn Peake in a modern Mother London. The very best sort of odd." 
   —William Gibson, author of Zero History
                       
"Nick Harkaway's novel is like a fractal: when examined at any scale, it reveals itself to be complex, fine-structured and ornately beautiful. And just like a fractal, all of this complexity and beauty derives from a powerful and elegant underlying idea."
   —Charles Yu, author of How to Live Safely in a Science Fictional Universe
 
"This brilliant, boundless mad genius of a book runs on its own frenetic energy, and bursts with infinite wit, inventive ambition and damn fine storytelling. You finish reading it in gape-mouthed awe and breathless admiration, having experienced something very special indeed."
   —Matt Haig, author of The Radleys

"A joyously sprawling, elaborately plotted, endlessly entertaining novel filled with adventure, comedy, espionage, and romance, Angelmaker also deals with intriguing questions of free will and the nature of truth without stopping to take a breath. As if the book is made of clockwork, the pages turn themselves."
   —Dexter Palmer, author of The Dream of Perpetual Motion

Praise from the U.K.

"A magnificent, literary, post-pulp triumph. . . . Angelmaker is an entertaining tour-de-force that demands to be adored."
     —David Barnett, The Independent

"An ambitious, crowded, restless caper, cleverly told and utterly immune to précis. . . .  A solid work of modern fantasy fiction."
     —James Purdon, The Observer

"Angelmaker is one of the most enjoyable books I've read in ages. . . . A joyful display of reckless, delightful invention, on a par with the rocket-powered novels of Neal Stephenson, if in rather more ironically diffident English form. Ideas come zinging in from all corners, and do so with linguistic verve and tremendous humour. . . . Once it gets going, it's brilliantly entertaining, and the last hundred pages are pure, unhinged delight. What a splendid ride."
     —Patrick Ness, The Guardian

"[The Gone-Away World] was a work of such glorious, exhaustive excess a part of me wondered if Harkaway would actually write again. I am profoundly glad that he has: Angelmaker is every bit as entertaining and imaginative. . . . Effervescent and witty. . . . Harkaway manages the ideal blend of paying homage to a very British sense of decency and fair play, while at the same time idolising the rule-breakers."
     —Stuart Kelly, Scotsman on Sunday
 
"[Harkaway is] a rare kind of writer. . . . There is something elegantly nostalgic about Angelmaker, whether in the derring-do adventure of it, or the loving invocations of artisanship. . . . [Yet] it's a gleefully post-modern book in its weaving together of genres with imagery from comic books, film and TV, and its richly imagined setting of a London with underground passages and secret markets."
    —Susan Mansfield, The Scotsman