Octopus: Sam Israel, the Secret Market, and Wall Street's Wildest Con (Paperback)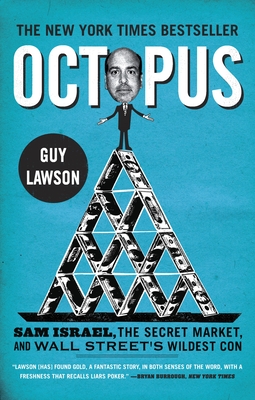 $16.00
Available in our Warehouse: Usually Ships in 1-5 Days
Description
---
Born into one of America's most illustrious trading families, Sam Israel was determined to strike out on his own. After apprenticing with one of the greatest traders of the 1980s, he founded his own fast-growing hedge fund, promising investors extraordinary returns.
But it was all an elaborate charade. After suffering devastating losses and fabricating fake returns, Israel knew it was only a matter of time before his real performance would be discovered. So when a former black-ops agent told him about a "secret market" run by the Fed, Israel bet his last $150 million on a chance to make billions.
Thus began his bizarre journey into "the Upperworld"--a society populated by clandestine bankers, shady European nobility, and spooks issuing cryptic warnings about a mysterious cabal known as the Octopus.
About the Author
---
GUY LAWSON has traveled the world reporting on war, crime, politics, and sports. His work has appeared in the New York Times, Harper's, GQ, and Rolling Stone. He and his live in upstate New York.
Praise For…
---
"Lawson [has] found gold…This is a fantastic story, in both senses of the word, with a freshness that recalls Liars Poker."
—Bryan Burrough, New York Times

"Read this book to understand Wall Street…Someone is going to Octopus into a movie. By this time next year, Lawson will have a fat deal…The reason for that is that Octopus is an incredible dark comedy with one of the craziest true-life ironic twists you can possibly imagine."
—Matt Taibbi, Rolling Stone

"Lively...turns a lens on the fast and loose ways of Wall Street...would make an excellent gift for a regulatory complicance officer...or a shrink."
—Bloomberg Businessweek

"Lawson's spellbinding account of Sam Israel's rise and fall is a phantasmagoric trip through the larcenous outer reaches (as well as the dark heart) of the world of finance.  Octopus made me worry that I was being followed or swindled."
—Nick Paumgarten, New Yorker

"A cautionary tale of the highly sophisticated, often endemic fraud that still lurks on Wall Street…I was riveted by Mr. Lawson's telling…the story is mind-boggling."
—Andrew Sorkin, New York Times (Dealbook)

"Entertaining…a colorful contemporary story about greed and ambition warping judgment, about con men duping other con men…replete with secret markets, shady intelligence operatives, and even a space alien that overdosed on ice cream."
—Reuters

"Full on Twilight Zone…features not just rampant fraud but guns, supposed CIA double agents, drugs, JFK's assassination, and oh yes, world domination. Did I mention that this is a nonfiction book?...An outrageous but definitely movie-worthy tale. Lawson's reporting is prodigious."
—Fortune

"Like The Sting…An astounding story that forces you to remind yourself that this actually happened not ten years ago, to real people with real money."
—Maclean's

"[Features] a series of spy-thriller escapades that could have been plucked from a Jason Bourne movie…More fun and thrilling than any work of journalism about hedge funds has the right to be."
—Canadian Business

"An inside look at a savage tribal society [of Wall Street traders] that also reminds one of that rollicking farce concocted by Mel Brooks, 'The Producers'… Brings to life one of the most colorful, and often engaging, con men of this or any other century…an entertaining, well-told tale."
—Washington Times

"If you dig movies about cons, like Catch Me If You Can, The Sting, and The Spanish Prisoner, you will blow through Octopus, Guy Lawson's deftly and enthusiastically told tale of Same Israel and the Bayou hedge fund."
—The Daily Beast

"Penetratingly comprehensive…Lawson nimbly traverses the labyrinthine depths of a worldwide banking con that managed to involve looted Federal Reserve notes and the JFK assassination…An eye-opening window onto Wall Street's destructive culture of unchecked hubris and a harrowing thrill ride into the unraveling mind of a desperate operator."
—Kirkus Reviews

"Lawson has mined the darkest, most seductive world I can imagine and delivered up a story that almost defies comprehension. Octopus is written with a force and clarity that I found absolutely irresistible…It's a hell of a book."
—Sebastian Junger, New York Times bestselling author of The Perfect Storm
 
"Liars and fraudsters and con men, oh my. Beyond the Bayou hedge fund implosion and faked suicide, Guy Lawson wonderfully winds the bizarre tale of Sam Israel's demise into a swirl of global conspiracy and ultimate delusion."
—Andy Kessler, New York Times bestselling author of Running Money and How We Got Here
 
"A  scintillating real-life thriller about one of the most peculiar frauds in history…Part true-crime thriller, part Wall Street investigation, Octopus is filled with startling revelations."
—Gary Weiss, former investigative reporter for Business Week and author of Born to Steal, Wall Street Versus America and Ayn Rand Nation
 
"An absorbing, splendidly detailed and darkly illuminating tale of our times."
—David Whitford, Editor-at-Large, Fortune magazine

"A rollicking, roller-coaster ride of a book that is utterly impossible to put down.  Crackling with energy, Guy Lawson's account of Sam Israel -- rogue Wall Street trader and grifter par excellence - and the con within a con within a con that led to his ruin is a story that no novelist could possibly make up.  Forget the sniveling Bernie Madoff and his garden-variety Ponzi Scheme; for anyone wanting to understand just how truly crazy Wall Street became and why, this is the book to read."
—Scott Anderson, Vanity Fair contributor and author of Triage

"[Israel's Ponzi scheme] speaks to the banality of evil.  But there is nothing banal about Guy Lawson's telling of the most incredible story I've ever heard in or out of Wall Street."
—Jared Dillian, author of Street Freak: Money and Madness at Lehman Brothers

"Thrilling, outrageous and true, Octopus is a riveting ride through the shadow world of global high finance. A desperate man with a touch of insanity, Sam Israel is a character straight out of what we could only wish this story were: fantastic fiction."
—Martin Kihn, author of House of Lies and Bad Dog (A Love Story)