Glock: The Rise of America's Gun (Paperback)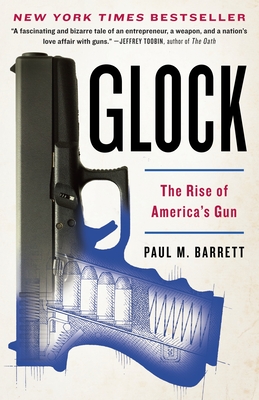 $17.00
This item is not currently available to order.
Description
---
The Glock pistol is America's Gun. It has been rhapsodized by hip-hop artists and coveted by cops and crooks alike. Created in 1982 by Gaston Glock, the pistol arrived in America at a fortuitous time. Law enforcement agencies had concluded that their agents and officers, armed with standard six-round revolvers, were getting "outgunned" by drug dealers with semi-automatic pistols; they needed a new gun. With its lightweight plastic frame and large-capacity spring-action magazine, the Glock was the gun of the future. You could drop it underwater, toss it from a helicopter, or leave it out in the snow, and it would still fire. It was reliable, accurate, lightweight, and cheaper to produce than Smith and Wesson's revolver.
 
Filled with corporate intrigue, political maneuvering, Hollywood glitz, bloody shoot-outs—and an attempt on Gaston Glock's life by a former lieutenant—Glock is not only the inside account of how Glock the company went about marketing its pistol to police agencies and later the public, but also a compelling chronicle of the evolution of gun culture in America.
About the Author
---
PAUL M. BARRETT is an assistant managing editor of Bloomberg Businessweek. He is the author of American Islam: The Struggle for the Soul of a Religion and The Good Black: A True Story of Race in America. Barrett lives and works in New York City. For more information, go to GlockTheBook.com.
Praise For…
---
"This book—from a top-notch reporter—will enlighten you about both gun culture and business culture. It's fascinating, even-handed, and packs considerable punch!"
—Bill McKibben, bestselling author of The End of Nature, Deep Economy, and The Age of Missing Information
 
"Glock is a riveting tale with masterful pacing and meticulous research. Paul Barrett knows his subject intimately, and it shows. . . . It's a must-read for anyone with an interest in handguns or the firearm industry or even American pop culture."
—Cameron Hopkins, editor in chief, Combat Tactics magazine; American Rifleman's Industry Insider blog

"With his customary insight and crystal-clear style, Paul Barrett has told the story of how a simple toolmaker from Austria came to be the dominant force in the manufacture and sale of pistols in the United States. . . . Glock is not at all just for the gun enthusiast. This book is for anyone concerned about the level of gun violence in America, and that should be all of us."
—Richard Aborn, president, Citizens Crime Commission of New York City; former president, Handgun Control, Inc.
 
"Glock is a great read. Very informative from both a technical and historical standpoint—warts and all."
—Frank A. DiNuzzo, chief firearms instructor, New York State Police (ret.); chief instructor, Glock, Inc. (ret.)
 
"Paul Barrett's Glock is a fascinating and bizarre tale of an entrepreneur, a weapon, and a nation's love affair with guns."
—Jeffrey Toobin, staff writer, The New Yorker; author of The Nine: Inside the Secret World of the Supreme Court
 
"Colt, Smith & Wesson, Winchester, Remington: These were the American firearms industry's major players for 150 years. In the 1980s they were joined by a foreign upstart, Glock, which soon overtook them all. Paul M. Barrett ably investigates Glock's seemingly inexorable rise to power, profit, and predominance in this riveting story of how a plastic Austrian pistol...transformed into America's chosen gun."
—Alexander Rose, author of American Rifle: A Biography
 
 "It's a story that pulls back the curtain on a secretive company that was apparently willing to do whatever it took to be successful. And it's a heckuva good read."
—Jim Shepherd, The Outdoor Wire

 
"Barrett is right on target, delivering a well-oiled, fact-packed, and fast-paced history of the Glock."
—Publishers Weekly

"Offering huge discounts and shrewdly marketing to police from its facility in Smyrna, Ga., [Glock] employed Gold Club strippers and Dallas Cowboy cheerleaders to attract crowds, entertain clients and lend the pistol a sexy cachet that grew exponentially when it popped up all over TV and movies as the gun of choice for cops and killers alike. . . A colorful case study of the manufacturer who beat long-entrenched, legendary brands at their own game."
—Kirkus 

"An informative, frequently surprising account of the evolution of America's gun culture and the gun that helped define it."
—Booklist

"How a pistol developed by an unknown engineer with little firearms experience became the dominant, if not iconic, law enforcement handgun in the United States." —The Washington Post

"Gun enthusiasts and gun detractors will almost surely read the saga of Glock, told expertly by journalist Paul M. Barrett, with divergent views...His authoritative voice permeates the nonfiction narrative. His own views about Glock and other weapons merchants are not easy to decipher, which is perhaps one of his book's many strengths."
—Dallas Morning News

"An engaging history of the most famous handgun in contemporary America. Barrett..[has] impressive knowledge of criminal and weapons history in the United States, as well as of Glock's business practices."
—The New York Times Book Review

"It's rare for a nonfiction book to read like a thriller, but that's what happens with "Glock." The book covers an intriguing and important topic, and it does so with panache and accuracy. Anyone interested in guns or gun control should read it."
—The Washington Times

"With an almost breezy, extremely readable style journalist Paul Barrett has written the definitive biography of a gun that has become the standard for American firearms."
—Florida Times Union

"Smart and engrossing."
—San Francisco Chronicle

"A compelling tale…a fascinating look at one man's extraordinary success."
—Wall Street Journal

"The sometimes shocking details about Glock…moves the reader from one anecdote to the next. . . . certain to fascinate audiences regardless of their thoughts on the Second Amendment."
—Atlanta Journal-Constitution