Maine (Vintage Contemporaries) (Paperback)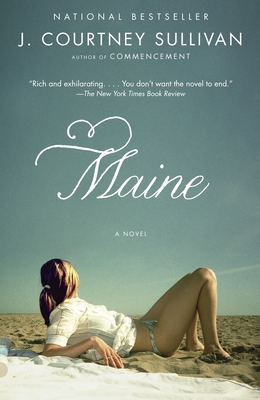 Description
---
This breakout New York Times bestseller from the celebrated author of Commencement and The Engagements, introduces four unforgettable women and the abiding, often irrational love that keeps them coming back, every summer, to Maine and to each other.
 
For the Kellehers, Maine is a place where children run in packs, showers are taken outdoors, and old Irish songs are sung around a piano. As three generations of Kelleher women arrive at the family's beach house, each brings her own hopes and fears. Maggie is thirty-two and pregnant, waiting for the perfect moment to tell her imperfect boyfriend the news; Ann Marie, a Kelleher by marriage, is channeling her domestic frustration into a dollhouse obsession and an ill-advised crush; Kathleen, the black sheep, never wanted to set foot in the cottage again; and Alice, the matriarch at the center of it all, would trade every floorboard for a chance to undo the events of one night, long ago.
About the Author
---
J. Courtney Sullivan is the author of the New York Times best-selling novel Commencement. Her writing has appeared in The New York Times Book Review, the Chicago Tribune, New York, Elle, Glamour, Allure, and Men's Vogue, among others. She lives in Brooklyn, New York.
Praise For…
---
"Ah, family. Isn't it satisfying to leave your own briefly behind to drop in on another—and see how thoroughly they bungle it all up? This is the pleasure of Maine, J. Courtney Sullivan's second novel, which delves into the secrets and simmering emotions of one dysfunctional family over the course of a single summer month. . . . The dialogue sizzles as the tension between the women's love and anger toward one another tightens. . . . You don't want the novel to end." —Lily King, The New York Times Book Review

"[A] ruthless and tender novel about the way love can sometimes redeem even the most contentious of families. Like all first-rate comic fiction, Maine uses humor to examine the truths of the heart, in New England and far beyond." —The Washington Post Book World
 
"Sullivan beguiles us again. . . . Crackling-smart." —Elle  
 
"By the time you're through with Maine, you'll be craving a lobster roll and a trip to Kennebunkport." —The Oregonian
 
"Sullivan presents women who may be stubborn and difficult, but she does so with such compassion and humor that we, too, end up rooting for them." —Chicago Tribune

"A gem. . . . Sullivan gives us three sunny, alcoholic acres of Maine coastline and three generations of Kelleher women." —Time
 
"I have never stayed at this cottage in Maine, or any cottage in Maine, but no matter: I now feel I know what it's like being in a family that comes to the same place summer after summer, unpacking their familiar longings, slights, shorthand conversation, and ways of being together. J. Courtney Sullivan's Maine is evocative, funny, close-quartered, and highly appealing." —Meg Wolitzer, author of The Uncoupling
 
"A wonderful page-turner. . . . Sullivan narrates the tale with verve and precision, drawing the reader into a compelling portrait of a specific family as it changes with the values and accidents of each era." —Providence Journal
 
"Nostalgic at times, up-to-the-minute at others, this meaty novel proves that Sullivan understands family." —Newark Star-Ledger
 
"Gives us . . . characters we can care about, despite their sometimes too-familiar flaws." —USA Today
 
"Maine's brisk storytelling and the unfurling of its central mystery . . . sweep readers along with gratifying sink-into-your-deck-chair ease." —Entertainment Weekly
 
"A powerful novel about the ties that bind families tight, no matter how dysfunctional. Sullivan has created in the Kelleher women a cast of flawed but lovable characters so real, with their shared history of guilt and heartache and secret resentments, that I'm sure I'll be thinking about them for a long time to come." —Amy Greene, author of Bloodroot
 
"Curl up with this wry, absorbing novel and eavesdrop on a summer's worth of secrets, feuds, and misunderstandings." —Parade magazine
 
"A wonderful page-turner." —Providence Journal
 
"Maine covers a lot of multigenerational emotional ground and a lot of family history. As the story progresses, it's intriguing to see the current dysfunction trace its way back through the generations to its roots in Catholic guilt, alcoholism and bad decisions. . . . Sullivan captures the beauty of the coast, the magic of a black-as-velvet sky lit with stars, the pleasures of a seaside lobster pound." —Fort Worth Star-Telegram
 
"Articulate, insightful, profound." —The Free Lance-Star (Fredericksburg, VA)
 
"A keeper! . . . Sullivan has done a bang-up job showing us a family full of dysfunctionals who remind us of people we may just know or be related to." —Naples Daily News
 
"Sullivan's smarts shed light on topics all families deal with, but her tasteful approach on the tough ones (particularly modern-day religious issues) shine through. The cast of quirky characters will have you laughing out loud and aching for their regrets in the same chapter, pining for more pages when it comes to an end." —MarieClaire.com
 
"[Sullivan] validates the old adage that you can pick your friends, but you are stuck with your relatives. This is a powerful, evocative story, beautifully written to reveal raw human emotions. . . . Fresh and lively." —The New Maine Times  
 
 "Sullivan turns from friendships to family, writing with the same warmth and nuance as Commencement, but pushing her characters farther, creating an even more complex and satisfying whole." —BookPage
 
"A delectable beach read as vast and sprawling in scope as the Kellehers' three-acre family property it details. . . . In Maine, Sullivan explores with grace, depth and good humor what it means to belong to an Irish-American family." —Irish America magazine